All together now.
Kate Feld
Kate Feld talks to Nitin Sawhney about Aftershock, a live music performance and club night staged at Manchester music venue Band on the Wall.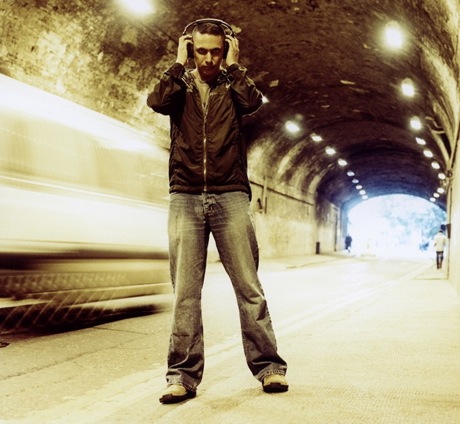 On the eve of staging Aftershock International in Manchester, Kate Feld asks the multi-talented Nitin Sawhney about this unique project, one that unites young musicians in different genres, from different parts of the world, in a single live performance. Aftershock has travelled around the world for several different editions; this one features artists from Manchester, Genoa and Marseille, and includes Fyzah, Matt Halsall and Abraxxxas.
Creative Tourist: How did the Aftershock project come about?
Nitin Sawhney: It came out of some workshops I did as part of the Commonwealth Games. The idea was to act as an antithesis to what the games represented with competition and inspire international creative collaboration between young artists. I act as a mentor and facilitator to help direct them in creating music together.
CT: I imagine it can be a challenge managing a big group of artists with very different working styles and musical traditions.
NS: I've played in just about every type of band going: orchestras, jazz quartets, a punk band, a rock band; I've worked with Indian classical music, flamenco, club music. Because of that I am able to feed back a lot of different ways of looking at music and the possibility of the music. I'm able to give them a lot of techniques as to how you orchestrate something when you work with a large group of people. Some of them are quite highly trained musicians and some of them are rough and ready players who just want to get up on the stage and go for it. Putting that different type of human energy together is really explosive – it's a very infectious type of gig because they're all so excited by each other. They all get off on listening to each other and then thinking differently about their own music, having to force themselves into different ways of looking at what they do. They really have to open themselves up.
CT: And what do you get out of the project?
NS: I find the Aftershock experience really good because it brings together people who are fresh to performance. It's great for me to be constantly working with people like that; I think it brings more edge into what I do. It's a great thing to work with people who aren't jaded by the music industry.
CT: You've done collaborations with so many musicians over the years. As an artist, how do you find collaborating different from making music on your own? Is it more difficult?
NS: Sometimes it can be, if you have a very strong vision of what you want to say. When I made (my first album) Beyond Skin I had a very strong sense of what I wanted to say and maybe I was a bit tunnel vision about it. But that came off really well because something came out of that that had a lot of power. I'm really quite proud of that. I'm proud of all my albums, but listening to that one I can hear a lot of my thought processes in it. When you collaborate you dissipate some of that intensity but you're bringing in different voices that can add to the richness of what you're doing. … you might have to shift your perspective sometimes and that can be rewarding because something much larger and more harmonious can come out of that. They are different ways of working and I think both are equally valid.
CT: What do you consider one of your more interesting recent collaborations?
NS: Days of Fire, the first track on London Undersound, which is about 7/7 and the de Menezes shooting. I felt strongly about those events politically, but I wanted to make a personal track. Natty had seen the bomb explode on the bus literally in front of him in Tavistock Square and then two weeks later he was a few carriages behind Jean Charles de Menezes when he was shot at Stockwell. Together we sat down and wrote the music and lyrics. I had very strong opinons about all that and he had very strong feelings about it, so the two things worked well together.
CT: So what can people in Manchester expect from Aftershock?
NS: We'll do a killer gig. We've brought people over from Marseille and Genoa and added some local Manchester players; some of them have played together before but many have never met. Whenever people come to see an Aftershock gig they don't regret it. It's not like you're looking at a workshop; you're looking at something that sounds and feels like a very seasoned band, and it's very high on energy. I've never seen anyone walk away looking bored or fed up.
Aftershock International at Band on the Wall launches with a club night 23 January (£6), and the final Aftershock concert is 30 January (£12). During the Aftershock residency Nitin Sawhney will also give a talk about his life in music on 26 January (£5). Go behind the scenes and meet the musicians at the Aftershock Manchester blog, featuring video footage recorded by the artists themselves. Listen to Days of Fire, by Nitin Sawhney featuring Natty, on YouTube.
Image: courtesy Band on the Wall.
END