5 of the best… Manchester Jazz Festival.
Matthew Hull
Matthew Hull gives us his highlights for the 15th annual Manchester Jazz Festival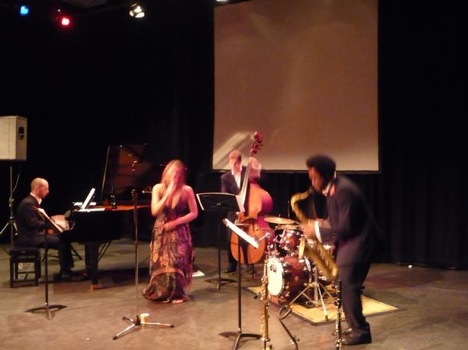 Band on the Wall hosts a special MJF installment of the Stockport-based DJ and tea aficionado's ever-popular monthly residency. Though his jazzy house blend of dance music has soundtracked a thousand daytime television lifestyle shows (try listening to Get a Move On without mentally adding 'at £350,000, this property is a little out of Bob and Janet's price range…'), the atmosphere at his live shows is always incredible. A word of warning: his sets can last a Bruce Springsteen-beating six hours, so remember to wear sensible dancing shoes. Mr. Scruff: Keep it Unreal, Band on the Wall, July 24, 9pm -3am, £12
Earmark an hour on Sunday afternoon for what promises to be an enlightening and enjoyable performance, as Zimbabwean émigré and adopted Mancunian Pascal Makonese heads up a group of talented musicians at this free show in St. Ann's Square. Taking its name partly from icon Miles Davis, Papa Miles fuse cool jazz with traditional African instrumentation to produce a unique, hypnotic sound, while Makonese sings, and sometimes speaks, in his native Shona of the struggles endured by himself and his compatriots over the past decades. Papa Miles, St. Ann's Square, July 25, 1-2 pm, Free
3. Afternoon Tea with Alice Zawadzki & Moss Freed
Vocalist Alice Zadawadzki joins guitarist Moss Freed for a high tea session in the elegant surroundings of The French restaurant. Smoky-voiced, heavy-lidded versions of smooth jazz standards vie with playful compositions inspired by Jewish and Javanese folk music in this afternoon set. A recent graduate of Manchester's RNCM, Zadawadzki has an incredible voice (described by one reviewer as "raunchily compelling"), so it's probably a good job they're only serving tea and sandwiches at this one. Afternoon Tea with Alice Zawadzki & Moss Freed, 28 July, The French at The Midland Hotel, 2.30 – 4pm,  £15 inc. afternoon tea
Playing alongside much vaunted jazz-punkers Trio VD, and local guitarist Stuart McCallum, this free jazz outfit (who admit a creative debt to the unlikely trinity of John Coltrane, Captain Beefheart and Fred Dibnah) feel as though they have stepped out of an episode of The Mighty Boosh. Combining meandering clarinets with creeping organs and periods of eerie calm, the group produce a unique and strangely compelling sound. The experience of listening to The Golden Age of Steam is a bit like being directed on a shortcut to your house that takes you twice as long and passes through a haunted wood – in a good way, of course. The Golden Age of Steam with Stuart McCallum and Trio VD, 30 July, Festival Pavilion, (8pm) £7.50
5. Beats 'n' Pieces Big Band Orchestra
The Beats 'n' Pieces Big Band Orchestra do what nobody ever asked for but that everyone actually wanted, fusing together the crystal horns and snapping cymbals of big band jazz with the dirty bass and frenetic organs of funk. It's like Glen Miller doing the score for Shaft, or Bootsy Collins leading the orchestra at a USO dance. Performing alongside fellow locals Dark Knights of the Soul, the group will be a fittingly raucous conclusion to festival proceedings. I just hope you haven't worn out those dancing shoes by now. The Beats & Pieces Big Band Orchestra with Dark Knights of the Soul, 31 July, Festival Pavilion, (8.30pm) £7.50
The 2010 Manchester Jazz Festival runs from July 23-31 in venues around the city. For more information visit the festival website. Images (top to bottom): Alice Zawadzki & Moss Freed; Papa Miles, both courtesy Manchester Jazz Festival.