Summer 2012 Festival Preview.
Kate Feld
Summertime is festival time, rain or (fingers crossed) shine. We enjoy a good fest as much as anyone, so we've cooked up this handy guide to the summer's best festivals, in Manchester and farther afield. Mark your calendars accordingly.
Manchester:
Contacting the World – It's a bold idea: pair up young people's theatre companies in different parts of the world, then stand back and see what happens.  You can enjoy the resulting performances in Contact's week-long festival, featuring young actors from Thailand, Trinidad & Tobago and Nigeria appearing alongside their UK counterparts. Workshops, talks and events to add to the mix. 9-15 July, Contact, Oxford Road M15 6JA.
Manchester Jazz Festival – It's always a good time when the jazz fest rolls into town, and cost-conscious hepcats will be happy to hear that more than half of this year's 70 events are free. Performers include local funkateers Pocket Central, far out piano trio A
Greater Horror, jazz guitarist Stuart McCallum, Mercury Prize nominee Zoe Rahman and the Latin-inflected Bugalu Foundation. Muy caliente! 13-21 July, venues around the city, various prices. manchesterjazz.com
24:7 Theatre Festival – This perennial favourite on the region's theatre calendar is a weeklong binge of hour-long plays from the best of the country's new playwrights. Come with an open mind, and prepare to go places. 20-27 July, The Midland Hotel, Sachas Hotel and New Century House, Manchester. All performances £8 (£6 concessions) 247theatrefestival.co.uk
Urban Moves – This international dance festival brings all sorts of movement-based interventions into Greater Manchester's public spaces. Twenty companies from Korea, Italy, Spain and just down the road perform car-assisted choreography, dance on steam train platforms and update the tale of Little Bo Peep for the 21st century.  27-29 July, locations around Greater Manchester. Free. urbanmovesfestival.co.uk
The Manchester Picnic – Checked tablecloths take over Piccadilly Gardens for this annual foodie fiesta. Sample street food from Tokyo, Rio and Punjab, try homemade ice cream from retro-fabulous Ginger's Comfort Emporium, and watch Master Chef finalist Jackie Kearney cook in her airstream van, The Hungry Gecko. With vintage DJs on Friday, live music on Saturday and a Sunday full of kids' activities and performances. 3-5 August, Piccadilly Gardens. Free entry. www.cityco.com
Transport Festival – Beep beep. Cars, bikes, boats, trains and planes create a traffic jam at the MOSI during this annual family-friendly celebration of things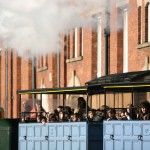 that go. Ride on a vintage bus, be a lorry driver or make your own weird and wonderful forms of transport – from solar-powered cars to rockets. 4-5 and 11-12 August. Free. 
Bolton Food and Drink Festival – It's not all black pudding and parched peas in Bolton, you know. This summer's festival is a culinary celebration featuring high-profile chefs Michael Caines, Jean-Christophe Novelli and James Martin, a cookery theatre and speciality market on Victoria Square with street entertainment, and foodie events at local restaurants and pubs. Scran-tastic. 24-27 August, venues around Bolton. boltonfoodanddrinkfestival.com
Fat Out Festival – This weekend festival takes over Islington Mill with 30 musical acts including the always-out-there Lydia Lunch, avant metal Talons and weird electro outfit Young Hunting. Plus food, activities and an independent arts and record market. 25-26 August, Islington Mill, James Street, Salford. Weekend tickets £25.
Abandon Normal Devices – The annual digital culture, art and film extravaganza also known as AND is a two-part affair this year; August's second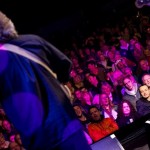 instalment features an outdoor scrap car drive-in, the world's first bio-engineered football, philosophical peep shows from trixxxie carr, and Mark Amerika's Museum of Glitch Aesthetics.  29 August -2 September, Cornerhouse, Oxford Road. andfestival.org.uk
Ramsbottom Festival – The excellent Bury Met runs this festival in the Pennine village that time forgot (we mean it: you can actually arrive by steam train.) This year's acts include inventive singer-songwriter Thea Gilmore, dream pop masters The Leisure Society, Aztec Camera's Roddy Frame, Inspiral Carpets and Manc indie prophets I Am Kloot. If last year is anything to go by, expect friendly crowds, excellent ale and good craic in the shadow of Peel Tower. 14-16 September, Ramsbottom Cricket Club. Day tickets from £18, weekend tickets from £50. ramsbottomfestival.com
Farther afield: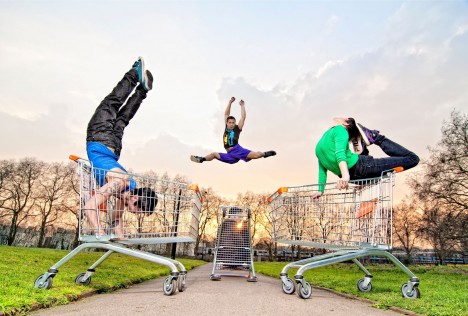 London 2012 – There's a little something called the Olympics happening this summer, maybe you've heard about it? Well, alongside all the sport there's a rather fantastic nationwide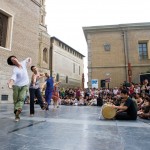 festival of culture. There's so much going on we did a separate preview just about this; read it here.
Kendal Calling – This small music festival has grown in popularity every year, and with a fantastic line-up and the gorgeous surroundings of the Lake District to offer it's easy to understand the allure. This year's bill features Dizzee Rascal, James, Maximo Park alongside a packed roster of DJs including DJ Yoda and Toddla T. 27-29 July, Lowther Deer Park, Hackthorpe. Sold out, returns only.kendalcalling.co.uk 
Just So Festival – Kids of all ages will love this kaleidoscopic, family-centred weekend of music, theatre, storytelling and art. Where else can you be serenaded by a lovesick submariner inside a giant metal whale, save the world from the piggy bank of doom, and then drift off to sleep dreaming about a bedtime aerial dance performance? In between there's lots of time to play, create, get muddy, make friends and dance in a wood. We ask you: what's not to like? 7-19 August, Rode Hall Park, Scholar Green, Cheshire, ST7 3QP. Adult weekend tickets £85, child weekend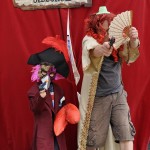 tickets £35 (both include camping; adult day tickets £25, child day tickets £12.50; under 3s free.  justsofestival.org.uk
Leeds Festival – One of the biggest of the big guns this Glasto-free summer, Leeds packs 'em in every August for a three-day musical blowout across multiple stages. This year's lineup includes The Cure, Foo Fighters, The Shins, Azealia Banks and Metronomy. 24-26 August, Branham Park, Leeds. Day tickets from £85, weekend tickets from £197.50. leedsfestival.co.uk
Mintfest – Each summer the Lake District town of Kendal becomes a big stage for the world's most inventive outdoor performers. This year's spectacle includes surreal Circus Renaldo, a village of fire, a ballet of dancing trolleys, a life size igloo made of Kendal Mint Cake, plus comedy, dance, puppetry, acrobatics and world and folk music. Minty fresh. 31 August- September, Kendal. Most shows all ages and free. lakesalive.org
Liverpool International Festival of Psychedelia – This new festival promises to leave the doors of perception swinging on their hinges. An impressive roster of Psychedelic acts, including Richard Norris' The Time and Space Machine, Dead Skeletons and Mugstar, perform alongside film screenings and art exhibitions. 29 September, Camp and Furnace, Liverpool. Tickets from £17.50. liverpoolpsychfest.tumblr.com
Still looking for more fun things to do? Check out what's on the cultural calendar in our event radar, or read our mini-guide to summer activities for families.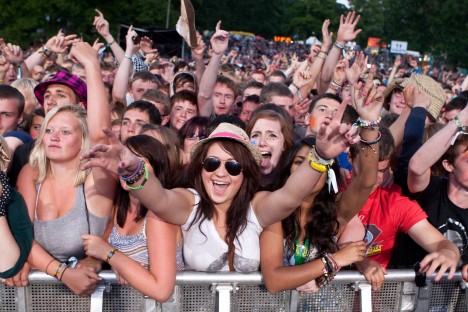 Words: Kate Feld. Images (from top): Empire Drive-In by Tod Seelie, courtesy of Abandon Normal Devices festival; Colman Brothers courtesy of Manchester Jazz Festival; Transport Festival courtesy of MOSI; Ramsbottom Festival 2011 by Haydn Rydings; Courtesy of Mintfest; PARK Soon-Ho Dance Project courtesy of Urban Moves; Just So Festival courtesy of Wild Rumpus; audience for Chase & Status 2011 courtesy of Kendal Calling.