Manchester Science Festival 2012: Gina Czarnecki's Wasted Works.
Matthew Hull
Unwanted body parts as art? Matt Hull has heard it all now – and heads deep into Manchester Science Festival regardless.
Manchester Science Festival is full of many weird and wonderful things (ordinary jeans that purify the air, an electric tea party, living lights) but none have provoked the 'is this for real?' response so much as a collection of work by artist Gina Czarnecki. Called the Wasted Works, Czarnecki's creations offer an artistic look into the life-giving properties of 'discarded' body parts such as teeth, old bones and fat sucked out during liposuction. And at this exhibition's heart is a spectacular, crystal resin sculpture called Palaces that Czarnecki has liberally decorated with milk teeth.
All of which might sound macabre, but Czarneki is clear that Palaces had to be beautiful, even magical. "I wanted to engage people about issues of the body, medical consent and stem cell research, but to do so in an artistic way. It also had to work for children," she says. And to that end, she asks children to donate their milk teeth rather than leaving them in the care of fairies – they might not 'get' all the ethical issues, says Czarnecki, but it's about making them curious about their bodies.
Wasted Works also features two Art Deco armchairs stuffed with rendered fat which moulds to your shape as you warm it up (the deeper relevance being that adult stem cells can be extracted from fat and turned into bone and heart cells), and video work which investigates the potential for humans to regrow body parts.
Czarnecki admits that some of these issues are quite controversial, which is one of the reasons she appears at MOSI during Manchester Science Festival (on 30 Oct and 4 Nov), not just to explain her work and take part in The Wasted Conversation with stem cell scientist Sara Rankin, but to continue the never-ending work on her strange, surreal, but thought-provoking Palace. An exhibition, then, to get your teeth into.
Manchester Science Festival, MOSI and various venues, 27 October-4 November 2012, times and prices vary. Tours with Gina Czarnecki about the Wasted Works, 30 October 2012, 2pm & 3.30pm, and 4 November 2012, 2pm & 3.30pm, free.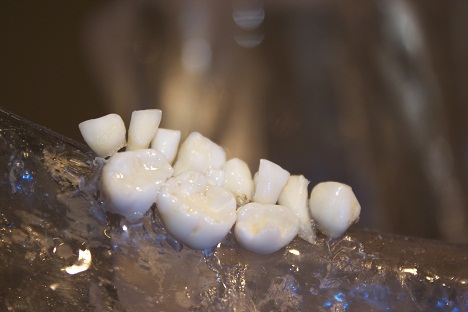 Images (top to bottom): both Palaces, courtesy the artist.