The Manchester Weekender 2011 – Sun 16 October
Creative Tourist
Gothic Splendour
It doesn't matter how many times you visit the Town Hall, Alfred Waterhouse's gothic revival masterpiece never fails to impress. Inside is a sequence of twelve murals by Ford Madox Brown, subject of the exhibition at Manchester Art Gallery nearby. These murals are a fascinating insight into the obsessions of Victorian Manchester, and the stories they chose to tell about the city's pioneering history. Pop in and see them.
Time: 9am-5pm Venue: Manchester Town Hall, Albert Square, M2 5DB Cost: Free, drop in.
Access All Areas Blueprint Studios tour
These hidden studios have produced some amazing musical talent. Come and stand in the footsteps of legends; Elbow, I am Kloot, Everything Everything, Delphic, Cherry Ghost, Durutti Column, The Fall, on this behind the scenes studio tour.
Time: 10am Venue: Meet outside Travelodge hotel, Blackfriars Bridge, M3 5AL. Cost: Limited places please telephone Suzanne to book a free place 07853 181 299.
Smartest Giant in Town
Family Friendly
Living Story Music Ensemble's interpretation of Julia Donaldson's touching story – a jaunty jazz performance with animal characters brought to life by different instruments. A must for families. Presented by Manchester Jazz Festival
Time: 11am Venue: MOSI, Liverpool Street M3 4FP. Cost: Free, but booking essential via j.earith@mosi.org.uk, 0161 606 0177.
Waterways Cycle Trail: Cottonopolis to Mediaopolis
Take a guided cycle tour along the waterways of Manchester, Trafford and Salford and discover how these canals made the city a magnet not only for mill workers and entrepreneurs but also scientists and artists.
Time: 11am-1pm Venue: Tour begins at Stretford Metrolink Car Park, Edge Lane M32 8HN. Cost: Free, book in advance through katedibble@aol.com or 07905 110197.
Sheer Poetry
Family Friendly
A poetic tour-de-force as Mark Mace Smith nods a header in the direction of the soon to open National Football Museum with a participative performance
poetry workshop inspired by the beautiful game.
Time: 11am Venue: Triangle, Cathedral Gardens, M4 3TR. Cost: Free, drop in.
Theatre Explorers
Family Friendly
All of the stories in the book have gone missing and you can help find them. Search the theatre and discover magic, colour and space to play. For 2-7yrs.
Time: 11.30-12.30pm Venue: Royal Exchange Theatre, St Ann's Square, Manchester M2 7DH. Cost: Free, booking essential through royalexchange.org.uk or 0161 833 9833.
'The Biggest Room in the World' tours
Known in its day as 'the biggest room in the world', come and discover the history of Manchester in the nooks and crannies of the Great Hall, and find out the secrets of how this theatre works.
Time: 11.30am, 12.30pm, 1.30pm & 3.30pm Venue: Royal Exchange Theatre, St Ann's Square M2 7DH. Cost: Free, booking advised through royalexchange.org.uk or 0161 833 9833. Suitable for young people and those with mobility issues.
SCRUM!
Family Friendly
It's Rugby World Cup time again and to celebrate popular children's author Tom Palmer will be reading from his new novel Scrum! and joined by special guests from the BBC sports desk and Sale Sharks RUFC.
Time: Noon Venue: Quay House, MediaCityUK, The Quays M50 2LH. Free, booking advised. Cost: Book on 0843 208 0500 or manchesterliteraturefestival.co.uk.
Shock City
Take part in one of these engaging walking tours designed by trained guides especially for The Weekender, timed to follow the Royal Exchange backstage tours:
12noon – Writing about Manchester – Discover how Manchester has shaped, and been shaped by, writing.
1pm – Cotton and Communism – A look at the industrial and political heritage of the cotton trade.
2pm – Mancunian Psychogeography – Find out how Manchester messes with your mindset.
4pm – This Creative Music City – Explore the rich musical legacy of Manchester and Salford.
Time: 12noon, 1pm, 2pm & 4pm Venue: Each tour begins at the Royal Exchange Theatre. Cost: Free, booking advised on 0161 833 9833.
Urban Harvest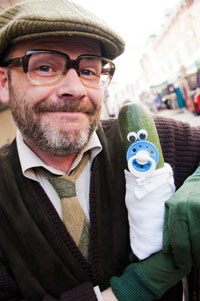 Family Friendly
After months of careful tending, the museum allotment is ready for harvest. There will be talks on gardening and sustainability, freshly dug recipes from local chefs and a strange but wonderful performance by beloved green-fingered entertainers The Vegetable Nannies.
Time: Noon-3pm Venue: Manchester Museum, Oxford Road M13 9PL. Cost: Free, drop in.
Underground Manchester with New Manchester Walks
Dare to drop down into the deepest depths of the dark, dank city. Bring a torch and stout boots.
Time: 12 noon Venue: Meet on the Midland Hotel steps. Cost: £8, booking only, via quaytickets.com, 0843 208 0500.
The John Rylands Film Club: Howl's Moving Castle
Family Friendly
Animation workshop and fun themed activities at The John Rylands Library followed by a special screening of family favourite and Studio Ghibli classic, Howl's Moving Castle. Presented by the Family Friendly Film Club.
Time: 1-4.30pm Venue: Begins at John Ryland's Library, 150 Deansgate M3 3EH. Cost: Booking essential as places are limited. Film and drop in activities free, animation workshop £5. Book on 0161 306 0555 or email jrul.events@manchester.ac.uk
Garland Procession and Dance Performance
Family Friendly
Classically trained Indian dancer Davika Rao will lead an informal Mala, or garland procession, to the Royal Exchange Theatre where there will be a traditional dance performance at 2.30 pm. All welcome – you can even bring your own garlands! Part of Asia Triennial Manchester.
Time: 1pm gather and depart fromt John Rylands Library, 150 Deansgate M3 3EH Cost: Free, drop in.
Colourful Sunday: Dark Drawings
Family Friendly
Use a variety of optical tools from shadows and lanterns to the latest digital visual effects to cast magical shadows and create your own dark drawings.
Time: 1.30pm-3.30pm Venue: Whitworth Art Gallery, Oxford Road M15 6ER. Cost: Free, drop in.
Ordinary Rebels
Family Friendly
Songs and poems about the struggles, joys and triumphs of everyday people performed by stand-up poet Dave Puller and singer-songwriter Claire Mooney.
Time: 2-3.30pm Venue: People's History Museum, Left Bank, Spinningfields M3 3ER. Cost: Free, booking essential. Telephone 0161 838 9190. Suitable for all ages.
Curiosities at Chethams
Family Friendly
In the oldest surviving public library in the country (which looks as if it belongs in Hogwarts), lurk bizarre curiosities which seldom see the light of day. Join special guided tours to see the Celtic stone head, Victorian death mask and nineteenth-century sex manual. Take in an Elizabethan book of spells: a treatise of necromancy – a way of conjuring up the dead, together with instructions to find hidden treasure, and finish off with a rendition of the Ballad of Johnny Green's wedding. Please note this event is suitable for families but not pushchairs or wheelchair users.
Time: Tours at 2pm and 3pm Venue: Chetham's Library, Long Millgate, Cathedral Gardens, M3 1SB. Cost: Free. Booking essential via librarian@chethams.org.uk.
Storytime: The Boy Who Couldn't Dream
Family Friendly
A cast of colourful characters use song and the power of spoken word to teach Joe about how dreams are made in this inspiring tale. Suitable for children between 7 -11.
Time: 3-4pm Venue: Royal Exchange Theatre, St Ann's Square M2 7DH. Cost: Free, booking advised royalexchange.org.uk.
Hey! Afternoon Tea with Liz Green
Afternoon tea with a vintage-twist, accompanied by an intimate acoustic performance from local chanteuse Liz Green whose homespun folk and poetic lyrics are perfectly suited to the literary pedigree of the Portico Library.
Time: 3.30pm Venue: Portico Library, 57 Mosley Street, M2 3FF. Cost: £12 includes afternoon tea. Book through quaytickets.com or 0843 208 0500.
Ancoats Peeps
Once centre of the world's cotton industry, Ancoats had been forgotten. This guided walk tells the story of its history and its regeneration as you explore the characterful streets, take in The Peeps, visit St Peter's Church complete with gyroscope and end at Cutting Room Square for an evocative and luminous viewing of Dan Dubowitz's giant sentinels.
Time: Departs 3.45pm Venue: Meet at the Queen Victoria statue in Piccadilly Gardens. Cost: Free, booking via quaytickets.com.
Lost Worlds screening with live accompaniment
Family Friendly
Scissor Sisters' keyboardist and musical director John Gardens provides live accompaniment to this stop motion creature feature classic. Sure to be a hit with dinosaur lovers, regardless of age.
Time: 4.20pm Venue: Cornerhouse, 70 Oxford Street M1 5NH. Cost: £10.50 (£8.50 members/ concessions), book through cornerhouse.org or 0161 200 1500.
'Close Up' featuring Jarvis Cocker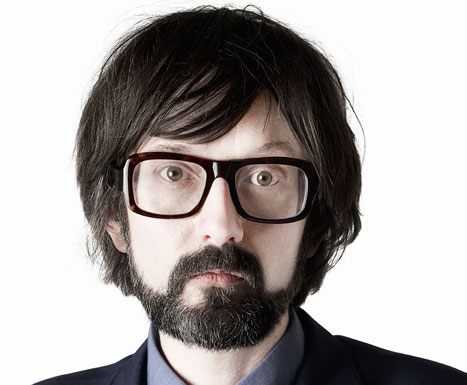 Framed by the glorious backdrop of Manchester's Great Hall, Pulp frontman Jarvis Cocker will be discussing what it means to be a cultural-provocateur with DJ, author and naturalised Mancunian Dave Haslam.
Time: Doors open at 6 to start at 7pm Venue: Great Hall, Manchester Town Hall, Albert Square, M2 5DB. Cost: £7. Book through quaytickets.com or 0843 208 0500.
Sacred Hearts
A heady blend of reading, dramatisation and music bring to breathing life Sarah Dunant's widely acclaimed novel Sacred Hearts, a poignant and atmospheric story set in a 16th century Italian convent. Part of Manchester Literature Festival.
Time: 7.30pm Venue: Manchester Cathedral, Victoria Street M3 1SX. Cost: £12 (£10 concessions), book through manchesterliteraturefestival.co.uk or 0843 208 0500.
Images: Top: The Vegetable Nannies © Dominic Old; Middle: Jarvis Cocker © Rankin
Please note: The Mike Joyce Curates… event at CUBE previously featured here has been postponed until further notice and will not be taking place during Weekender 2011.