The Manchester Weekender 2011 – Family-friendly events highlights
Creative Tourist
1. Howl's Moving Castle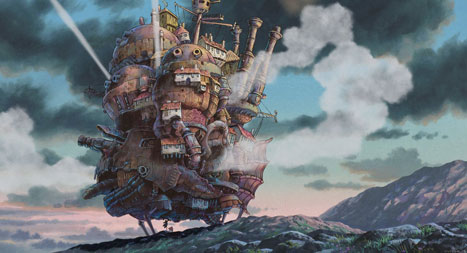 We've teamed up with the Family Friendly Film Club for a special screening of Studio Ghibli's anime classic Howl's Moving Castle (Cert. U), based on the fascinating book by British fantasy writer Diana Wynne Jones. When the evil Witch of the Waste turns young Sophie into an old woman, she goes on a quest to reverse the magic and joins forces with the notorious wizard Howl and a friendly fire demon. The screening will be held in the spooky gothic surroundings of The John Rylands Library, where kids can get busy with an animation workshop and special activities before the film.
Sunday 16 October, 1-4.30pm, The John Rylands Library, 150 Deansgate M3 3EH. Booking essential as places are limited. Film and drop in activities free, animation workshop £5. Book on 0161 306 0555 or email jrul.events@manchester.ac.uk.
2. Lost Worlds and John Garden live
Cornerhouse and Bristol Silents present a screening of the silent film Lost Worlds, Harry O. Hoyt's 1925 vision of a time when dinosaurs ruled the earth, with a very special soundtrack: John Garden, keyboardist and musical director from the Scissor Sisters, will provide live semi-improvised musical accompaniment that references the synth-heavy sound of the late seventies, when he saw the film as a boy. It's sure to be a hit with dinosaur lovers, regardless of age.
Sunday 16 October, 4.20pm, Cornerhouse, 70 Oxford Street M1 5NH. £10.50 (£8.50 members/ concessions). Booking via cornerhouse.org or 0161 200 1500.
3. A Taste of Modern History A Floating Family Day Out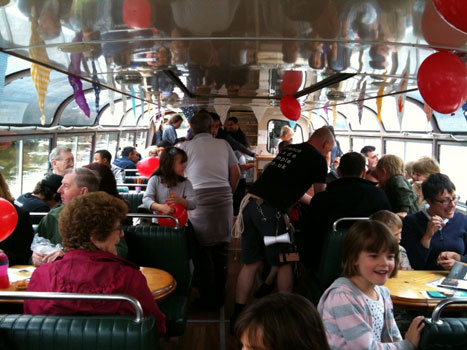 Manchester Food & Drink Festival invites families to a foodie day out on the historic waterways that connect Manchester and The Quays. Start your day with a visit to The People's History Museum, then climb on board and enjoy a waterways ride to The Quays with kids activities, plus a regional tasty snack with a historical twist to celebrate the launch of A Taste of Modern History historical recipe book. Jump onto dry land at The Quays where you can experience
pop-up dark room activities at Imperial War Museum North, visit The Lowry, or encounter choirs, sculpture and fitness fanatics as you explore around and about. Three boats are running throughout the day – book your place now as our family boat rides last year sold out in super quick time!
Brought to you by Modern History.
Saturday 15 October, 11:30am, 1.15pm, 3pm (journeys last approx. 30-40 mins). Tour starts at the Mark Addy, Stanley Street, Salford M3 5EJ. £6 per person (includes snacks) outward journey only. Book via ticketline.co.uk . Return by boat (12.30pm, 2.15pm and 4pm, but it is first come first served – return fare included for ticket holders or £1.50 without). Alternatively, make the most of The Quays and come back via tram, cost of tram not included in ticket price.
To order your own FREE copy of A Taste of Modern History recipe book visit modernhistory.co.uk/taste
4. The Smartest Giant in Town
If you missed its premiere at Manchester Jazz Festival this summer, here's a second chance to hear Living Story Music Ensemble's jazzy interpretation
of Julia Donaldson's touching story. Different instruments and rhythms give voice to the animal characters surprised by the kindness of giant George, and Mary Oliver's expressive vocals bring the story to life. This will be a great performance for younger children, with plenty of space for dancing, colouring and generally joining in. The performance will start at 11 am and last about 60 minutes. Arrive early and you could make your own dancing puppets of the animal characters to take to the show.
Sunday 16 October, 11am – noon (puppet-making workshop from 10am), MOSI, Liverpool Street M3 4FP. Free. Booking advised via j.earith@mosi.org.uk.
5. SCRUM!
It's Rugby World Cup time again, and to celebrate children's author Tom Palmer will be reading from his new novel Scrum! at MediaCityUK on Sunday, with support from Sale Sharks RUFC and some of the BBC Sports broadcasting team. There's also a rugby-themed quiz and drop-kick contest for fans aged eight to 80 – prepare to get sweaty. Part of Manchester Literature Festival.
Sunday 16 October, Noon, Quay House, MediaCityUK, The Quays M50 2LH. Free, booking advised on 0843 208 0500 or manchesterliteraturefestival.co.uk.
6. Sheer Poetry
Poetry tour-de-force Mark Mace Smith nods a header in the direction of the soon to open National Football Museum in participative performance poetry workshops inspired by the beautiful game, and historian Ed Glinert leads a walking tour of a city made famous by football. Legends like Best, Law, Charlton and Busby. Moments of glory snatched from the jaws of defeat, tears and tragedy. Stories that have made Manchester world famous, and football the world's greatest game.
Poetry events – Saturday 15 October at 5.00pm Manchester Cathedral and Sunday 16 October, 11am, The Triangle Shopping Centre. Drop in, no booking required.
Walking tour – Saturday 15th October, 3pm Visitor Information Centre – turn up and pay on the day £6. The tour will finish at Manchester Cathedral in time
to participate in the poetry.
Eat & Chill
Local favourite Tampopo (locations at Albert Square and Exchange Square) prides itself on a kid- friendly approach to Asian food. Pizza loving families should head to Dough on High Street in the Northern Quarter or Croma near the Town Hall.
Castlefield is a great place to explore, with canal and towpaths to wander, ducks to feed, the remains of a Roman fort, and the lovely St. John's Gardens, with the MOSI and People's History Museum nearby.
Images: Top: Howl's Moving Castle; Middle: Family fun cruise