FutureEverything 2016: Our top 5 highlights, including emails in smoke rings & a high-profile party
Stevie Mackenzie-Smith
It's one of Manchester's most innovative cultural events – but the FutureEverything programme isn't always easy to navigate. So, these are our highlights.
One of my favourite gigs in recent years took place as part of FutureEverything a couple of years ago. I watched producer Dean Blunt (formerly of Hype Williams) in the small basement at Soup Kitchen. It was a gig that affirmed how well jarring off-ness translates into music; when an artist is bold enough to take you on a journey you couldn't possibly anticipate.
A section of the show was taken hostage by strobes; the lights started off so intense that the audience shielded themselves collectively, framed by the lights into slow motion, before they began to feel warmer, like a blast of Vitamin D. Nothing about that performance was familiar and nothing could quite be pinned down; for me, that night epitomised the what is brilliant about FutureEverything festival. You might not know what to expect, but it could just change your way of thinking.
FutureEverything returns to Manchester 30 March – 2 April and, as ever, it will be exploring music, art, technology and digital culture. This year, the festival's theme is 'Less and More', an exploration of how we can rethink our resources in an increasingly uncertain world.
To help you to plan your movements, we've chosen the most promising events taking place during FutureEverything 2016. Here we go.
Kingdom Come at Manchester Art Gallery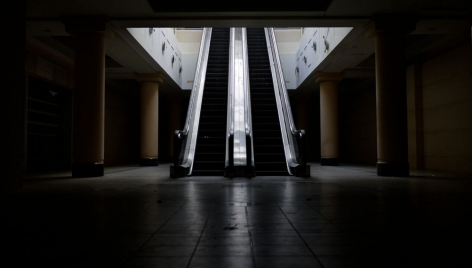 Manchester Art Gallery hosts the world premiere of audio-visual performance Kingdom Come, a collaboration between British composer Gazelle Twin, and filmmakers Chris Turner and Tash Tung. The performance features electronics, film, live vocal manipulation and is set on treadmills, pushing the performers' limits in the process. This one is sold out, but more tickets are due to be released; and you can win tickets through our FutureEverything competition. Manchester Art Gallery, 31 March, 7.30pm-8.30pm, free entry
The Corridor at Manchester Central Library
Use your mobile phone to tune into this interactive audio soundscape created from field recordings taken by Manchester residents along the Oxford Road Corridor. From the hammers and thuds of tram line construction sites to passing conversations, this is like people watching with your ears. Drop-in and immerse yourself in the resulting 'sound poems'. Manchester Central Library, 31 March, 1pm-7pm, free entry
Smoke Signals at The International Anthony Burgess Foundation
What would happen if you could visualise the data you contribute to in your daily life? What if the stream of emails pinging between inboxes became tangible? Smoke Signals takes the data produced by a number of arts organisations (Salford's Islington Mll and Gateheads's BALTIC, among them) and turns them into physical data streams, in the form of smoke rings – the sort you may have tried to blow from cigarettes as a teenager. Emitted in a dark room, these entrancing rings encourage us to temporarily switch offline whilst observing the physical presence of the data being exchanged between others. Drop in each day at 6m for accompanying musical performances from Sara Lowes, John Hering and Jo Dudderidge and Harry Fausing Smith. The International Anthony Burgess Foundation, 31 March – 2 April, 10am-6pm. Performances will happen on the hour, every hour, lasting for 30 minutes. Free entry
FutureEverything's Friday Night Party at Islington Mill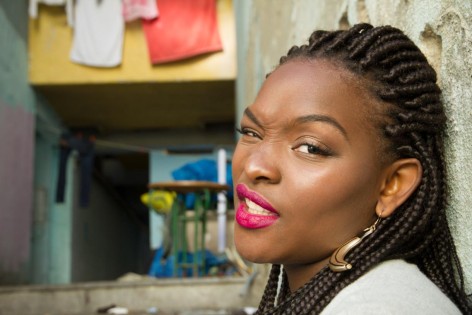 Hosted by some of Manchester's most exciting promoters and resident DJs working today, this Friday Night Party combines local talent with those from further afield – and it's another event that's included in our FutureEverything ticket bundle giveaway. Don't miss Nidia Minaj, the Bordeaux-based producer who has been making waves in the Kudoro scene (high-octane dance music originating in Angola) since she was a teenager. There's also sound designer Errorsmith and Nkisi, resident at London's Endless club night, who plays anything from doomcore to West African club music. Islington Mill, 1 April, 9pm-6am, tickets £11 adv.
FutureEverything Conference at Manchester Town Hall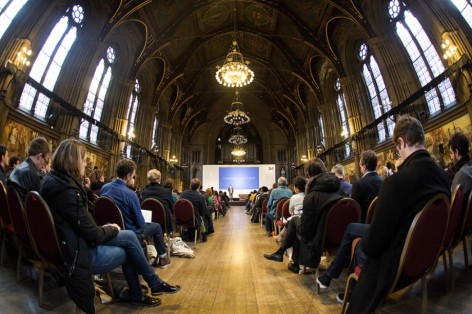 With sessions covering the pleasingly infinite titles like 'Life', 'Earth', 'Community' and 'Thriving In Uncertainty', alongside more intimate 'Fireside Chats' with featured FutureEverything artists, the festival's conference takes place at Manchester Town Hall, giving audiences a chance to have a deeper prod at some of the questions posed throughout the festival. There are dozens of speakers, including Mathew Leung, founding member of Turner Prize-winning collective Assemble, Nelly Ben Hayoun, film-maker and founder of the International Space Orchestra, and journalist Charlie Winter, who is a leading expert on transnational jihadist movements like ISIS. Sessions can be attended with a Conference pass, available for each day or the entire festival – and also included in our FutureEverything competition prize. Manchester Town Hall, 31 March – 1 April, times vary. Ticket information