Reeling in the years.
Kevin Bourke
Kevin Bourke reports on UnSpooling, Cornerhouse's examination of the often-uneasy relationship between contemporary artists and cinema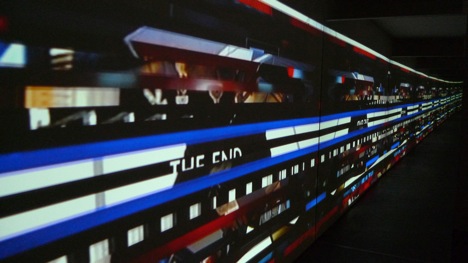 If anywhere naturally lends itself to an investigation of the relationship between cinema and contemporary art, it has to be Cornerhouse. Ever since the much-loved arts centre opened, its exhibition spaces, with their often-challenging collections, have co-existed with its cinemas, showing everything from the latest Danny Boyle film to the sort of Spanish language films you quite simply couldn't see anywhere else. In between, literally and metaphorically, lies its cafe and bar, where you're just as likely to overhear a vigorously entertaining debate (over a beer and a pizza, naturally) about the latest exhibition upstairs as you are to hear Mike Leigh's oeuvre dissected.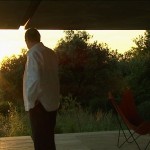 So it made complete sense for curators Andrew Bracey and Dave Griffiths to mark 25 years of Cornerhouse with UnSpooling – Artists And Cinema. "It seemed apt to bring artists and spectators together in the act of navigating and constructing cinema," they say, "to unspool the fundamental illusory nature of celluloid."
Thus, 19 international artists were tasked with presenting "current reflections and interpretations of cinema and new possibilities of future cinematic production, spectacle and storytelling," re-imagining Cornerhouse's galleries as a "fourth cinema space in which to review the relationship and concerns of art and cinema."
Several of the pieces reflect on the 25-year history of Cornerhouse itself. Juhana Moisander's video interventions fancifully explore Cornerhouse's folklore, based on interviews with regular patrons (including, in the interests of full disclosure, this writer) and staff. Similarly, Harald Smykla delves into Cornerhouse's infancy, rendering Nicolas Roeg's film Insignificance, and its first cinema screening in 1985, as a durational drawing for which he rapidly sketched every shot as an evolving scroll on OHP acetate. Along the outside wall of Cinema 1, Stefan Zeyen's new fly-poster frieze Weekend (2010) re-imagines Jean-Luc Godard's infamous long take as a static spatial rendering of screen time at one of Manchester's most traffic-laden junctions.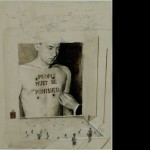 Along with Moisander, Cornerhouse also commissioned Alex Pearl. Based over the river Irwell at Islington Mill, Pearl created one lo-fi video per day, evoking the DIY anarchy of the early English film industry.
Other works subvert iconic film scenes, intending to "critically recycle and re-present cinema language and history". Mario Rossi's canvas The End/Untitled depicts the oft-forgotten final shot from Psycho, where Marion's Ford Custom is dredged from the swamp near the Bates Motel. Ming Wong's Life and Death in Venice, meanwhile, positions us between the gazes of a dying composer and his young object of desire. Adding a further illicit thrill, it was filmed without permission on location at the 2009 Venice Biennale, ducking and diving "in a guerilla-style dialectic with the national pavilions".
This "acceleration and mutation of cinematic form," contend Bracey and Griffiths, "could signal the beginnings of Cinema 4.0." Maybe so, but at the very least it's got to be more interesting than yet another Hollywood studio retro-fitting its big new release into 3-D.
UnSpooling – Artists And Cinema, Cornerhouse, until 9 January. Free. Images (top to bottom): Odyssey, Sheena Macrae; David Claerbout; Michael Borremans; Ming Wong Life and Death in Venice.