One for the kids.
Dea Birkett
Dea Birkett makes a plea for more art, less finger painting in art activities for children at British museums and galleries
When he was one, my son loved Bridget Riley for the colour and contrast. By three, he'd graduated to Picasso for the weird and wonderful shapes. Now he's seven, he enjoys nothing more than sitting in front of a whopping big Titian and working out what the story is about.
My son is no fine art freak, but just like any other child, he likes a good picture. So why is it when museums and galleries think kids, they often think pipe cleaners, glue sticks and tubs of crayons that probably need sharpening? I'm fed up of going to a museum to engage in exactly the same sort of activity that we could do in our own sitting room. The only difference is I don't have to brush up the glitter from the floor afterwards and provide the soap to wash the sticky fingers. As one of the 20 points on the Kids in Museums Manifesto, compiled entirely from visitors' comments, says, 'Don't make assumptions about what kids do and don't like. They can appreciate fine art as well as finger painting.'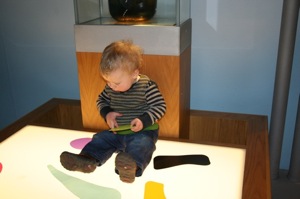 It's easy to put kids into a cultural ghetto, imagining all they're interested in is Egyptian mummies and dinosaur bones. Anra Kennedy, mother of three young children and head of learning at Culture24, an online guide to Britain's museums and galleries, says, 'Children are fascinated by just about anything if it's presented in a way that sparks their curiosity. The Rosetta Stone, for example – children are absolutely enthralled by the magic that object holds, if they have it explained to them in the right way.'
At Killhope, the North of England Lead Mining Museum, director Ian Forbes says they have 'a happy knack of inspiring children about the past.' But he doesn't do it with buttons and levers. 'We ban all worksheets and have no interactive displays,' says Forbes. 'Youngsters are encouraged to use all their senses to absorb what it was like to live and work as a Victorian lead miner. And if they get cold and wet and dirty so much the better – because that's what life was like!'
At Killhope, kids aren't corralled into a 'family friendly' corner. I'm not fond of museums with separate rooms for family events. I'd much prefer to spend the visit actually out amongst the collection. At Manchester Art Gallery, there are family activities throughout. In the modern and contemporary gallery, there's a Roger Fry-inspired giant jigsaw; in the 18th century gallery, a lift-the-flap who's who of classical gods; and labels by the children's illustrator Tony Ross are placed below the oil paintings. As one visitor to Manchester Art Gallery said, 'The art is OK, but the greatest thing here is the extraordinary approach.'
Sometimes, however, one special place in the museum for children can take them to another. Big Art for Little Artists at Liverpool's Walker Art Gallery is the first dedicated children's fine and decorative art gallery within a national institution. At first glance, Big Art looks rather like a well-equipped nursery, with boxes of thick wooden pencils and cupboards stuffed with bejeweled dressing-up clothes. But this is play with a fine art purpose – to launch a hesitant child (and accompanying adult) into the rest of their world-renowned collection. A child can dress up as Henry VIII in Big Art, then follow a footprint trail to the North European Art Renaissance and Reformation 1350-1600 Gallery, where they'll find the king's portrait. Or they can put on a hand puppet of the boy in Yeames' famous And When Did You Last See Your Father?, then search for the character in the Nineteenth Century Gallery.
At the best museums, we don't just stand still, something all my three kids find practically impossible. At the Whitworth Art Gallery this summer, we can all not only admire art but watch films at the fabulous Family Friendly Film Festival (of which I am the first proud patron). The Lowry's Express Yourself exhibition isn't about being hands-on but feet-first, as families are encouraged to practice their dance moves. As I jitter and jive, my kids can hip-hop. Or perhaps they won't. Perhaps they'll learn how to do old time ballroom dancing. Museums are great at introducing kids to things they never knew they wanted to be introduced to before.
So if you spot me waltzing with a seven year old this summer, don't be surprised. But do come and join us on the museum's dance floor.
Dea Birkett is Director of Kids in Museums. Order your own free Kids in Museums Manifesto here.
Header image (used on homepage): courtesy and copyright Wonder Associates (2009), with illustration by Ste Ashton