Blog: Incoming event radar
Creative Tourist
Hirst, Emin et al descend on the Buy Art Fair; Brian Eno provides the soundtrack at RNCM; the Blog Awards need your vote; Andrew Brooks runs a masterclass; and we give thanks we're not at the Hayward Gallery in London…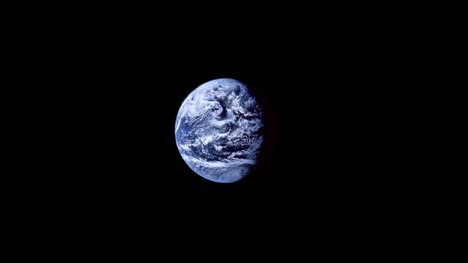 Love art? Buy art. Look, we know there's a recession on. And yes, we're all too aware of the axe – you know, the one marked 'Comprehensive Spending Review' – that hovers above our public service necks. But before the axe falls, make space in your diary for the Buy Art Fair, opening at Spinningfields on 28 October. As well as a chance to buy prints from such art world air-kissers as Damien Hirst and Tracey Emin, there will also be works to purchase by the ever-collectable Peter Blake and Banksy, plus pieces by Radiohead album sleeve artist, Stanley Donwood. Cornerhouse Books have taken a stand, too, should you feel the need to invest in the latest art books, prints and DVDs. Emerging artists are in evidence with the return of the Manchester Contemporary, a parallel contemporary art event that showcases the likes of the Ceri Hand Gallery, Bureau and International 3 – keep an eye out for our feature on the Manchester Contemporary next week. 28-31 October, Spinningfields. Advance tickets free or £5/£4 on the door.
This is for all mankind. Apollo: Atmospheres and Soundtracks by Brian Eno is one of those albums that's embedded deep into the collective psyche, a musical score that you'll have heard, whether you know it or not, because it forms the soundtrack to Trainspotting, 28 Days Later, Traffic and countess other TV programmes and films. Eno's seminal album, then, is about as iconic as ambient music gets. So a rare live performance of it at RNCM, alongside a screening of the documentary film it was written for, is worth a look. The film in question is Al Reinert's For All Mankind, a documentary gem that follows the six Apollo lunar landings of the 1960s and 70s and features many of the original space flight recordings. Boldly go back to an era when space really was the final frontier, accompanied by Eno's bespoke soundtrack performed here in Manchester by Icebreaker and BJ Cole. Wednesday 27 October, 7.30pm. £16/£13.
Manchester Blog Awards. Whoever said that blogging was dead clearly hasn't spent much time in digital Manchester. This year's Manchester Blog Awards recorded its highest ever number of entries – almost 300, some 50% up on last year. The shortlist for this year's cream of the blogging crop has just been released, with the awards night itself scheduled to take place in the gloriously louche setting of the Deaf Institute on 20 October. We're delighted to be judging this year's contest along with Kate Feld, Emily Morris (Blog of the Year winner 2009) and MDDA's Dave Carter, and are offering a £150 writing commission for the winner of the Best Arts & Culture Blog. Public votes still count – get yours in before 5pm on Tuesday 19 November. Wednesday 20 October, 7pm. £4/£3.
Space invaders. Anyone who took part in Marina Abramovic Presents… at last year's Manchester International Festival may still be having nightmares about the hour-long 'induction' that preceded it, which involved being forced to stare into a stranger's eyes for ten minutes. Now, to mark the launch of MOVE: Choreographing You, London's Hayward Gallery has released a video that gets close to that squirmingly awkward experience, and which cheerfully demonstrates just how much us Brits like our personal space. The two works in this video are examples of 'social sculpture' by Franz Erhard Walther, a conceptual artist who has spent his career creating quiet, fuss-free artworks that only really come to life once two or more people wear, hold or stand inside them – the idea being to create moments of social intimacy completely at odds with the de-personalized urban life so many of us usually inhabit. But enough of that – check out the participants in this video, most of whom apparently thought that taking part in a social sculpture was a fabulous idea… until they found themselves wrapped in a giant bandage with a complete stranger.
Snap happy. We've just got news of a photography workshop run by one of our favourite Manchester snappers, Andrew Brooks. Emerging from his recent commission with MOSI (they asked him to document the ongoing redevelopment of its historic buildings), Brooks is running a two-hour session in November – and if you're a fan of digital photography, composite images and post-production techniques, then this is for you. Brooks' hyper-real images were the subject of an exhibition at Urbis not so long ago and the fact that he can use up to 70 photographs in the creation of any single image shows a remarkable dedication not just to his subjects (which tend to be urban landscapes and buildings) but to the possibilities of digital photography, too. Tuesday 9 November, 6.30pm-8.30pm. £35. Book via www.mosi.org.uk. Image below: Hong Kong Airport, courtesy Andrew Brooks.