An art day's night.
Matthew Hull
As the nights get longer, Matthew Hull looks forward to the chance to wear his ridiculous fluffy hat and fingerless gloves. Oh yes, and to next week's Long Night Festival in Liverpool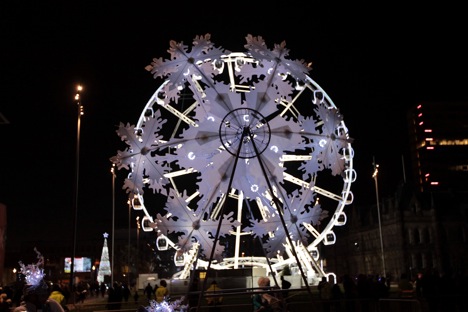 There is an idea that late November is dead time, a cavernous stretch of miserable grey days set between the last smoulder of the bonfire and the first twinkle of festive lights. It's a period made notable only by its proximity to Christmas. Five shopping weeks left, the ads proclaim, just time to bulk-buy mince pies and hideous candles that make your house smell of mulled wine.
For me, though, this is one of my favourite times of year. There's a chill in the air but nothing has frozen up beyond use. I can legitimately wear my ridiculous fluffy hat and fingerless gloves without friends and family objecting too much. And the days may be short and grey but they give way to long nights. The Long Night festival in Liverpool takes place on just such a long November evening, with 50 arts and culture organisations putting on a programme of more than 100 different cultural events between 4pm and 3am on 18 November.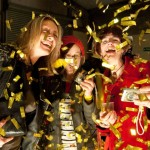 'It sounds cheesy to say "there's something for everyone" but there absolutely is,' says Charlotte Corrie of Open Culture, the organisation that co-ordinates the festival. 'As a celebration of culture in Liverpool, Long Night is just as much for families as it is for students.' The festival features a range of events spanning visual art, film, performance and debate. Exhibitions from the city's artistic big hitters like the Bluecoat and the Walker feature alongside those at smaller galleries and spaces such as S.Q.U.A.T and Curve Gallery, and the haunting sits cheek-by-jowl with the playful. There is a special performance of the acclaimed For The Best, for example, a play written with the help of patients on dialysis at Royal Liverpool University Hospital, while at Take Away Art bespoke work is ordered like fast food and served to you in the surroundings of a chip shop.
'There is obviously no way that someone could see everything happening on Long Night,' says Corrie, 'but it's for people to imagine their own programme for the night. Whether you turn up for the first two hours or the last two there is going to be some incredible stuff going on.
'The Finding The Liverpool Irish tour, for example, is a personal highlight,' she says. 'It investigates the long history of Liverpool's links with Ireland but does it through character and lively storytelling. Then there is there is the free Under The Mud bus which will take people between the various locations of the festival, but is also a real experience in itself. And the last bus of the night is taking people to a screening of the film Under The Mud, a great surrealist comedy set in Liverpool.'
Perhaps the festival's most exciting event is Sound Relay, a three-hour long parade of music which begins at the Philharmonic Hall then snakes through the city, stopping at Biennial sites to collect new musicians along the way and finishing at the Tate with a recital in the shadow of Magdalena's Abakanowicz's Embryology. Corrie hopes that the procession will engage a new audience with Long Night. 'The 18th will be the first night of late night Christmas shopping so hopefully there might be some crossover and, as the Relay works its way to the Albert Dock, it might pick up some shoppers who didn't know that the Long Night was going on or who might not ordinarily attend arts events. The idea, and it's one of the major themes of the festival, is that culture is for everyone to be a part of.'
Long Night, Locations throughout Liverpool, 18 November, 4pm-late. Check programme for details. Images: Christmas Animation Liverpool Long Night 2, courtesy Mark Louden (top and bottom images); Long Night (thumbnail).