Violent experiments.
Daniel Miller
Daniel Miller considers Artur Żmijewski's incendiary, politically-charged art
The Polish contemporary artist Artur Żmijewski is becoming increasingly prominent. He's been the subject of profiles in two major art magazines, his work has been featured in exhibitions in Warsaw, Berlin, New York, Graz, and now comes Manchester for a mid-career retrospective at Cornerhouse.
The show marks Żmijewski's first appearance as an exhibiting artist on the British mainland with one of his largest solo shows to date. His three major works are all included: his name-making re-enaction of the 1971 Stanford Prison Experiment, Repetition (2005), his more fully-realized follow-up Them (2007), and his most recent (and largest) completed project Democracies (2009), a touristic series of videos documenting mass public gatherings shot over the last several years.
Repetition was Żmijewski's first international hit. Philip Zimbardo's original Stanford Prison Experiment was a devastating demonstration of the banality of violence, in which a group of ordinary American college students was arbitrarily divided into prisoners and guards, confined in a sealed location, and then allowed – if not encouraged – to play the situation out. Scheduled to last for a fortnight, the experiment had to be terminated after only six days, with guard violence tumbling out of control. Foreshadowing the abuses at Abu Ghraib, and the first generation of reality television, the results ultimately led Zimbardo to deduce the existence of a 'Lucifer Effect' to explain how particular power structures make 'good people turn evil'.
Żmijewski re-enacted the original set-up, achieving a similar outcome: abandoment following dangerously escalating violence. But whereas Zimbardo's original motives were scientific, Żmijewski had no ambition to produce any new research findings, working instead through his interest in radical politics, allied perhaps to a deeper fixation on violence.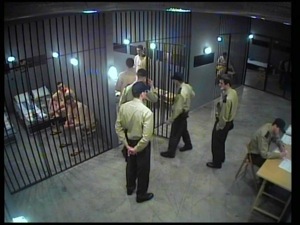 Amongst his other activities, Żmijewski is the artistic director of Krytyka Polityczna, an ambitious political groupuscule and post-structuralist publishing house based in Warsaw, which emerged from the Polish conceptual art scene in 2002. The party has received financial backing from Żmijewski's principal gallerists, the powerhouse Foksal Gallery Foundation, while its handsome leader Slawomir Sierakowski is well-known in the art world as the militant hero of the Israeli artist's Yael Bartana's video Mary Koszmary (2007).
The film shows Sierakowski in a crumbling stadium filled with weeds, appealing for the murdered Jews of the Holocaust to return to Poland: 'your country, which dreams about you every night'. Stefanie Wenner, a Berlin-based curator who travelled to Warsaw recently, reports that the party introduces itself to its visitors by darkening the lights, and rolling the DVD player.
Żmijewski sees a continuity between his political and artistic activities. 'But of course, you are aware, that it is not only artists who make these videos,' he said recently of Democracies, 'but also activists.' Nonetheless: 'Yes, I am comfortable with my identity as an artist.' As an artist, his main innovation is clearly to have introduced the experiment into mainstream contemporary art practice. Along these lines, together with Bartana, and the Israeli group Public Movement, both of whom also work in Warsaw, Zmijewski can be classified as a post-conceptual artist. Whereas formerly 'the idea was the machine which made art' (in the words of the conceptualist Sol LeWitt), post-conceptualists are using art as machines to construct ideas.
Żmijewski followed Repetition with Them, an experiment of his own devising, in which the representatives of a spectrum of political groups, from the radical left to the extreme right, were asked to design their own banners, then encouraged to interact. The artist records their negotiations, which finally conclude in a fiery inferno.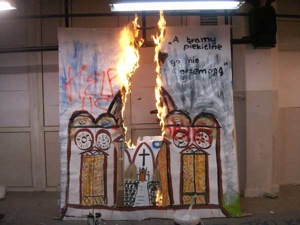 Absurd and tragic, Them is Żmijewski's best work to date. But the piece retains the sadistic, authoritarian streak which forms a major part of the artist's creative force. This is clearest in the short, disturbing 80064 (2004), a video work which is also on show here, which documents the artist and a collaborator renewing the tattoo of a holocaust survivor. At the last minute the man wants to back out. But Żmijewski insists. 'You agreed! It's the essence!' 'I never believed they would do this to me again,' the old man says wearily. The artist and friend carry out the procedure. Is this a work about dehumanization, or is it simply dehumanization?
While 80064, Repetition, and Them are all documentary recordings of engineered situations, Żmijewski's most recent work Democracies records the historically pre-engineered. Documenting mass gatherings across Europe and Israel and Palestine, from the Austrian politician Joerg Haider's mean, solemn funeral in Vienna, to battling anti-Nato protestors in Strasbourg. The best scene is in Belfast, where Żmijewski records a young Irish woman directly addressing the camera. 'Fuck off back to Poland,' she repeats, as he follows her around. 'Do you not understand? Fuck off back to where you came from.' Żmijewski believes it is possible to understand where she's coming from.
Democracies shows an artist expanding his canvas, with a vision of Europe which is ugly, intense: the underbelly of the European dream, with discontent simmering under the surface. It's a portrait of the artist as much as a vision of the landscape, and marks-out Żmijewski as one of the most thought-provoking European artists working today.
Daniel Miller is a writer based in Tel Aviv. Artur Żmijewski runs at Cornerhouse until 10 January 2010.
Images (top to bottom): Democracies (2009), Repetition (2005), Them (2007), all Artur Zmijewski, courtesy the artist.