Victoria Wood is like Leonard Cohen.'
Susie Stubbs
With the first tickets going on sale today for the 2011 festival, Susie Stubbs talks Wagner, Wood and performance art with MIF's Festival Director Alex Poots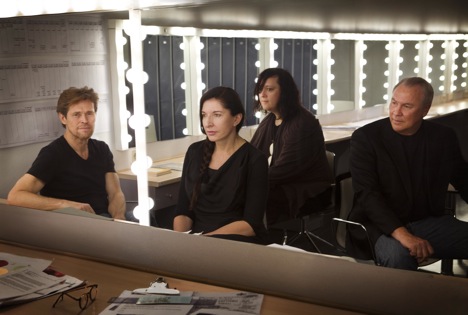 We'll get the hard facts out of the way first: at 10am on Friday 1 October, tickets go on sale for the first three shows of Manchester International Festival 2011. 'You can never predict what's going to happen with new work,' says Alex Poots of the festival's policy of commissioning new, never-seen-before visual art, music and theatre – although if this three show teaser is anything to go by, 2011 will once again demonstrate Poots' by-now trademark mix of high art, entertainment and Mancunian flair.
First up comes The Life & Death of Marina Abramovic, a curious mixture of theatre, music and performance art that will be pretty much unmissable for anyone who took part in Abramovic's epic performance at the Whitworth in 2009. Starring Abramovic and Willem Dafoe, and with music from Antony (as in '…and the Johnsons'), this stage-based work is based on a 're-imagining' of the artist's eventful life. Abramovic has spent her career using herself as her subject matter, but the artist's stance on theatre (she once said that 'to be a performance artist you have to hate theatre') sets up an intriguing tension here. Whatever happens on the Lowry's stage next July, Abramovic herself – uncompromising and an inordinately mesmerising – is likely to steal the show.
The Hallé gets another airing next summer, too. Although some may question whether the orchestra can ever top its emotional collaboration with Elbow in 2009, conductor Mark Elder is possibly the only man in Manchester able to make a serious stab at it. He conducts Die Walküre/The Madness of an Extraordinary Plan, Gerard McBurnley's 'staged examination' of Wager's four-opera Ring Cycle.
Finally, at least for the time being, the festival premieres That Day We Sang, a new play by Victoria Wood that tells the story of the 1920s Manchester Children's Choir. Wood's play is set in the 1970s when the choir's former stars are brought back together for a one-off TV documentary. The real-life version of the choir, an unlikely group of 250 working-class kids drawn from schools across the city, 'captured the nation's heart in 1929,' says Alex Poots, thanks to a performance of Nymphs and Shepherds at the Free Trade Hall – a song that went on to spawn its own record (which we tracked down on YouTube. Note the lack of a Mancunian accent – children were taught to sing phonetically so as to erase the local dialect).
Victoria Wood found herself on the front pages this week thanks to a searingly honest interview with The Guardian. The interview, which touched on her struggle with depression and a painful eating disorder, variously described the comedian as a 'national treasure' and 'a fascinating mixture of humility and steel'. So what is the real Victoria Wood like? 'She's very straight, direct, always on time and when she says she'll do something she does it,' says Poots. 'Weirdly, she reminds me of Leonard Cohen – really considerate and yet you know that inside this very lovely person is a really sharp wit.
'The fact that she can open up about her eating condition… I thought a lot of people with the same or similar issues, to see someone like her being very matter of fact about it, would find that fantastic. I discovered more about her on that particular point; it showed a different aspect to Victoria Wood that is less the mainstream entertainer and national treasure that she is.'
Surprising, occasionally uncompromising and not a little Mancunian: Alex Poots' choices for the 2011 festival reveal, this far at any rate, the legacy of what's been before, and the promise of unexpected things to come. Now, who's for a rendition of Nymphs and Shepherds?
Tickets for all three commissions go on sale at 10am, Friday 1 October 2010. The Life & Death of Marina Abramovic, The Lowry, 9-16 Jul 2011, £15-£39.50; Die Walküre/The Madness of an Extraordinary Plan, The Bridgewater Hall, 15 & 16 July 2011, £15-£49.50; The Day That We Sang, Manchester Opera House, 6-16 July 2011, £15-£35. Images (top to bottom): Willem Dafoe, Marina Abramović, Antony, Robert Wilson, shot during rehearsals for The Life and Death of Marina Abramović at Teatro Real, Madrid, photo by Antony Crook