Vacuum wrapped and cutting edge. The AND Festival begins.
Matthew Hull
Matt Hull is nearly deafened by the buzz of art anticipation as the Abandon Normal Devices festival arrives in Manchester
Representing the best in new cinema and digital culture, the AND festival spans a week of events and installations throughout Manchester, all of which aim to give a good poke at sociological and technological norms. 'In a nutshell, AND is a platform for a variety of striking perspectives on how we live today,' explains festival producer Gaby Jenks.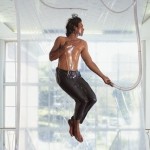 It opens with Lawrence Malstaff's Shrink, a performance-cum-experience in which volunteers are trapped between two sheets of plastic while air is gradually sucked out. The image of the artist suspended in what looks like a giant sandwich bag has become something of an icon for the festival, adorning brochures and online guides. Whilst watching members of the public being vacuum-packed like cuts of raw meat is an undeniably arresting prospect – and, let's face it, an absolute no-brainer as an opening event! –  the two 20 minute showcases aren't necessarily the most engaging items on the AND agenda.
Showing on Monday is controversial Filipino director Brillante Mendoza's Service. Given a documentary feel by the use of digital stock, the film is, first and foremost, a resonant family drama, with all the tenderness and confrontation that entails. The difference here is that the family in question run a crumbling downtown sex cinema. Reviled and praised in equal measure when it premiered at Cannes, the film is challenging and compelling but also one of the hidden treasures of AND, according to Sarah Perks, programme director at Cornerhouse. 'It's innovative but it's also narrative and, in spite of the seedy setting, the depiction of family squabbling is completely universal,' she says.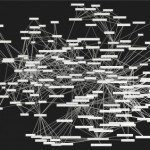 Artist and self-professed 'skillful member of the public' Heath Bunting displays his work The Map of Normality at Cornerhouse from this weekend. 'One of the thematic threads running through AND is identity,' says Gaby Jenks, 'and this work charts the moments at which we all "enter the system". When we get our driving licenses, or our phone contracts… all those things that make us identifiable to society and the state.' The webs of intersecting trails that make up the piece are arranged according to their dependent links in mailing lists and government databases, forming a set of roadmaps of ordinary life that manage to be both mundane and horrifying.
Elsewhere in Cornerhouse, Turner Prize-nominated Phil Collins' Marxism Today combines archive footage with contemporary interviews to explore what happened to the schoolteachers of Marxist-Leninism after the collapse of Communism. But the project is as much about shedding light on the proud history of practical Socialism in Manchester as it is examining the ideological fate of the former Eastern bloc.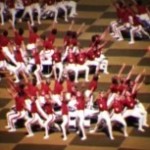 'Manchester has this reputation for radicalism stretching back to the 19th Century, but what does that mean to the city today?' asks Jenks. 'Did the rise of consumerism make those ideas obsolete? Or has the recent economic crisis made them more relevant than ever?'
Finally, Brief Blue Electric Bloom is one of the closing events of the festival and Sarah Perks promises 'it's a real one-off, an inventive blend of poetry, projection and sign languages,' accompanied by a haunting score by acclaimed Irish composer Ailís Ní Ríain. 'If you're a fan of contemporary classical music, or even if you don't know you are yet, then this is a definite must-see.'
Abandon Normal Devices, October 1-7, various locations. Part of The Manchester Weekender. Service, Cornerhouse, Oxford Street, 4 & 6 October, times vary. £4-£7.50. The Map of Normality, Cornerhouse, until 21 November. Free. Marxism Today, Cornerhouse, 2 October – 28 November. Free. Brief Blue Electric Bloom, greenroom, 7 October, 7pm. £8.50-£10.50. Images (top to bottom): Odyssey, Sheena-Macrae, part of Unspooling Artists at Cornerhouse; Shrink, Lawrence Malstaf; The Map of Normality, Heath Bunting; Marxism Today, Phil Collins. Below: trailer for Service.