The Arts Are All Right. Buy Art Fair opens.
Matthew Hull
It is the largest gallery show in the North of England – with some big names under its belt (Hirst, Banksy, Emin). But do the locals get a look-in at the Buy Art Fair? Matthew Hull investigates.
Some big names have been attached to this year's Buy Art Fair. Damien Hirst, Banksy and Emin International (or Trace as she's known to her friends) all have limited edition prints for sale at the event. But the fair is a big place. In fact, it's the largest gallery show in the North of England, and beyond the attention-grabbing money-spinners churned out by the glitterati (coming next year – unmade beds available in flat-pack; subversive graffiti stencils for your child's nursery), there really are more exciting local galleries here than you can shake a diamond-encrusted skull at.
The successful movie and comic book art gallery Generation Pop hosts a display of work by artists including Allison Lefcourt and Alex Ross. The gallery, which displays work featuring the Beatles, Frankenstein and Donald Duck, taps into a local appetite for high quality Pop but very nearly did not open in Manchester at all.
'We had to fight tooth and nail to open in the city,' says owner Anthony Marks. 'We work in partnership with big studios, and Hollywood execs kept trying to persuade us to open in London. I don't think some of them had even heard of Manchester, but we insisted it had to be here.' The suits at Universal have recently had additional cause to consult an atlas thanks to the city's Northern Quarter being chosen as the stand-in for Brooklyn in the new production of Captain America. To coincide with the filming, Generation Pop held a show of signed Marvel artwork, some of which Marks hopes to exhibit at the fair.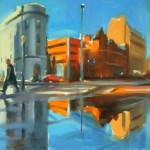 Alex Reuben, the curator-owner of Contemporary Six, was still in the process of putting together his new city centre gallery when he agreed to talk about the work he was taking to the fair. 'The doors haven't even opened yet,' he says, 'so it's going to be exciting to see how people react to these new pieces. It's a really eclectic mix.' Contemporary Six features the work of emerging practitioners from around the world, including the Danish Carina Traberg, who creates surrealist cityscapes in photo collage, and Farsad Labbauf, a Saatchi-exhibited Iranian artist working in fragmented lines to produce abstract portraits.
From a fledgling local gallery to one that has become a recognized and respected institution – Wendy J. Levy Contemporary Art celebrates its 10th anniversary this year. The Didsbury gallery primarily exhibits work by established artists based in the North West, from the evocative impressionism of the renowned Liam Spencer to the thick, tribal art-inflected sculpture of Dawn Rowland. Levy herself is giving a talk, called Take The Fear Out Of Buying Art, on the final day of the fair, where she will offer guidance and advice on buying and displaying art for those who might be new to the practice.
'It's about feeling comfortable,' asserts senior gallery assistant Lesley Brush. 'Walking around a gallery can be a daunting prospect. It can be a downright unwelcoming environment, frankly. The great thing about the Buy Art Fair, though, is that it removes that element and makes art attainable.'
Buy Art Fair, Spinningfields, 28-31 October; Take The Fear Out Of Buying Art, 31 October 31, 1.15pm (free but tickets required). Images (top to bottom: Emin International – You Can't F"k A Shoe 2010; City, courtesy Liam Spencer; Safe as Houses, courtesy Carina Traberg.