Talent spotting.
Kate Feld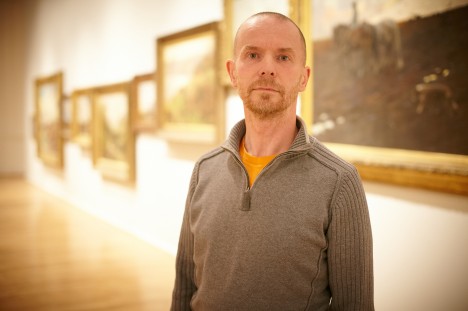 Northwest artist Leo Fitzmaurice, who has exhibited extensively in Manchester, is a finalist for the high-profile Northern Art Prize. Kate Feld talks to the artist about his thoughtful and engaging work. Also, young people curate a new exhibition at Cornerhouse.
Prizes and competitions are part of the machinery that keeps the art industry running. Yes, some of the more cynical souls among us might whisper that they're all marketing wheezes cooked up to get artists more exposure. To which we would reply: and what, exactly, is wrong with that? In our book, anything that gets good art to a bigger audience has a lot going for it. And anything that gets good Northern art to a bigger audience is more than all right by us.
In just five years the Northern Art Prize has clearly demonstrated the range and vitality of art from the North, and become something of a proving ground for edgy and intriguing artists. This year is no exception, with multimedia artist Liadin Cooke, Leo Fitzmaurice, abstract painter James Hugonin and Richard Rigg competing for the £16,500 top prize.
The sole Northwest finalist is Fitzmaurice, who lives in The Wirral but studied in Manchester and cut his teeth on the city's art scene. He has a strong association with Castlefield Gallery, and also exhibited at CUBE last year. We've been fans of his work for ages here at Creative Tourist (we interviewed him in 2010, and wrote about him here ) He uses found and unlikely materials to create works that stretch our perception of the everyday, or provide an understated, wry comment on modern society. Discarded and sun-faded Coke cans ranged in a gradation of colour become suddenly interesting; flyers arranged in patterns turn litter into art. A series of playful photographs taken with his mobile phone demonstrate his keen sense for composition and also show that  art is more about who's pressing the button than professional standard kit. For the Northern Art Prize Show, Fitzmaurice meticulously rehung 18th and 19th Century paintings from Leeds Art Gallery's collection so their horizons line up perfectly, creating a landscape that never existed.
It's actually Fitzmaurice's third time being longlisted for the prize, and when he looked at the strength of this year's longlist, he says, "I thought, there's no way I'll get through." He may be admirably humble, but Fitzmaurice is a talented and hardworking artist who has steadily grown in stature over the last several years, and the publicity from making the shortlist and the prominent finalist's exhibition in Leeds are most certainly raising his profile further . "I think a lot of people have seen (my work), so it's one of those things that might have an effect in the future," Fitzmaurice said. "It's been good being involved in it."
Our fingers are most definitely crossed for him as the winner is announced Wednesday. We think he has a pretty good shot at it. There's a kind of quiet rightness about his work; it is both thoughtful and accessible, with an admirable lightness of touch. For instance, the mobile phone photographs of The Way Things Appear evolved, Fitzmaurice said, out of his work on the Detourist series (which we covered here) where he was manipulating bits of litter he found in the street. "When I did that I started seeing things better. As a part of what I was doing I started recording with my mobile phone camera, just to record my thinking, really," he recalls. "Often these are the things you walk past and they register a few seconds later. I'm trying to capture that first glimpse."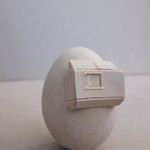 And now for a very different kind of first glimpse. If  you're curious about the next generation of Northern Art Prize finalists (or judges), head to Cornerhouse for Lost is Found. The group exhibition shows work from Manchester and Liverpool artists curated by the city's pioneering Creative Stars programme, a collaboration between Cornerhouse; music venue Band on the Wall; four city theatres and Unity Radio designed to help talented teenagers develop their creative skills. Standouts include Emily Speed, whose work (pictured left) investigates the role of buildings, photographer Jessa Fairbrother and sculpture from Andrea Booker.
Northern Art Prize exhibition, through 19 February, Leeds Art Gallery, The Headrow, Leeds LS1 3AA. The winner will be announced on 19 January. You can also vote for your favourite artist online at northernartprize.org.uk
Lost is Found, through 19 February, Cornerhouse, 70 Oxford Street, M1 5NH.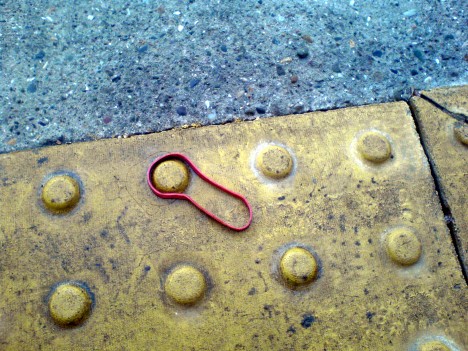 Images: (From top) Leo Fitzmaurice at Northern Art Prize Exhibition, David Lindsay; from Post-match Exhibition, Leo Fitzmaurice; Emily Speed, egg, nest, home, country, universe from Lost is Found, from The Way Things Appear, Leo Fitzmaurice.