Songwriters of the world unite.
Susie Stubbs
Budding songwriters have two more days to enter The Lowry's Dock Idols competition. We talk to Aidan Smith about the lyrics he penned for the project
As we reported a few weeks ago, The Lowry is in the midst of running a songwriting competition. In it, three writers – Aidan Smith, Girl Peculiar and Albert Thompson – have each penned lyrics about the Quays, which The Lowry now wants other musicians to set to music. It's all part of Unlocking Salford Quays, a project designed to remind us of the industrial past of this corner of Salford, its Ship Canal successes and subsequent post-industrial decline.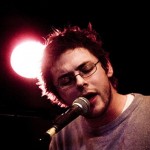 Aidan Smith, the Manchester singer-songwriter with a penchant for 'sharpened kitchen sink-isms and pastoral oddity' (according to a 2005 review of album Fancy Barrel) may at first seem a surprising choice for this particular gig.  "It's interesting to be asked to write something for a specific purpose," he admits, "and it's definitely something I haven't managed to do before. I was once asked to write something for a Roald Dahl musical and I just couldn't get it done."
But Smith has form when it comes to working at the Quays. "I worked in offices there and later at Trafford Park moving pallets, doing data entry, that sort of thing,' he says. Smith, however, remained unaware of the Quays' industrial significance until now, including the fact that it was once one of the busiest working docks in the UK. Its subsequent decline, from the mid-1980s, is now reflected in Smith's new lyrics, in lines such as: 'A city hurts when the dockyard falls/And there's nothing else but the market stalls."
"It wasn't just Salford that suffered," he says. "All over the country in the 80s industry was shutting down, and places like Merseyside had it worse so it's easy to forget what happened here. But it's useful to remember what things were like if you want to know where you are going."
Does he see a parallel between the recession of the 1980s and the one we are going through now? "There was nothing to replace what was lost in the 80s, so it's good to see something new [Media City] being built at Salford Quays now. I can't speculate on what's going to happen in the future but things do feel very different."
As for Smith's own future, he's fairly optimistic. His third album is due out in February and he has, unexpectedly, been experimenting with rap of late. "Some of my friends and me have been trying to be rappers." And how's that going? "No idea. You'd have to find someone who heard us and ask them!"
Dock Idols closes on 28 November, with the winning tracks recorded in mid-December. Find out more here.
Aidan Smith's lyrics: Docking
In from the sea is a boat of iron
Pacific promises in my mind
Salford raised and Canada bound,
I'll strike for a penny, strike for a pound.
Workshop of Europe, nowhere finer
Make light work of a Manchester Liner
Egyptian cotton or China tea.
We'll shift five bales to Liverpool's three
Chorus
Unpack it, sack it
Grade it, weigh it
Ship it, mill it,
Sing it, say it,
Don't care for the Rhine, don't care for the Seine
Ship Canal blows through my vein
26 deep and 100 wide
The Yankee boats won't touch the side
I knew a lady from custom house
She met a foreman and now she's a spouse
Sailors don't have time for a factory girl
So they find their women at the Clowes Hotel
Unpack it, sack it
Grade it, weigh it
Ship it, mill it,
Sing it, say it,
We were a fleet three-thousand strong
In '84 it all went wrong
Third greatest dockyard in the nation
Before the birth of containerisation
Now the fog that lifts over nine-dock south
Leaves a different flavour in my mouth
A city hurts when the dockyard falls
And there's nothing else but the market stalls
Unpack it, sack it
Grade it, weigh it
Ship it, mill it,
Sing it, say it,