Sight specific.
Catherine Teague
What do a demolished church, Antony Gormley and the humble welly boot all have in common? Catherine Teague finds out via a mobile media-inspired walking tour of Manchester's public art and monuments
Manchester, like every other British city, has a rich and varied collection of public art and grand monuments that mark significant historic events, or commemorate those upstanding types who once helped shape society. But how often do we really notice the sculpture that litters our streets – and how much do we really know about it?
These are the questions that Manchester Art Gallery set out to answer last summer – with a little help from mobile media. The result is Decoding Art, a walking tour of 20 of the city's public monuments where said artworks have had 'Quick Response' (QR) codes embedded into them.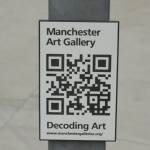 QR codes, for the uninitiated, are two-dimensional barcodes that store URLs. Once scanned by mobile phones equipped with a QR code reader, users are directed straight to the relevant page on a website, which contains more information about whatever it is they were looking at in real life – whether that's an artwork or a bottle of ketchup. While the technology isn't particularly sophisticated, it is satisfyingly neat and, unsurprisingly, QR codes are big in technophile Japan and growing in popularity across Europe. They are also fast becoming a favourite of marketing agencies, popping up on posters, books and billboards as a bridge between print and the web.
The Decoding Art tour
But back to Manchester, where Decoding Art has just been launched. The 20 monuments that now come with their own QR codes can be covered on foot in about an hour; the casual interpretation provided by conservator Beth Courtney en route keeps the pace flowing, while 12 audio commentaries by historian and broadcaster Jonathan Schofield help animate the scene.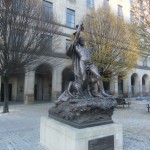 Beginning at St Peter's Cross (St. Peter's Square), Schofield's commentary conjures up an image of the church that once stood here before revealing why it later disappeared. Then, moving across to the Cenotaph, you can uncover the symbolism of the Unknown Soldier before catching Manchester's 'maddest' (according to Schofield) sculpture, Adrift. Over to the Messenger of Peace (Mosley Street/Princess Street) to admire its stylised serenity, before moving north to the Greek portico of Manchester Art Gallery (Mosley Street) to discover the 'strikingly' elegant fusion of historic and modern that lies behind it. Once inside, make your way to the second floor where you'll come face to face with the only contemporary artwork on this tour, Filter by Antony Gormley.
Back on the street again, proceed to Piccadilly Gardens where a sombre Queen Victoria awaits you.  Here, too, you can discover the inventor of the light bulb and stop by the Tree of Remembrance before moving on to Lincoln Square (Brazennose Street) to greet a legendary former US president with close ties to the city.
Pick your way through Brazennose Street towards Albert Square where you'll find Queen Victoria's consort, Prince Albert, neighbouring Gladstone, the four-times Prime Minister and advocate for women's rights. Stop by the Jubilee Fountain and listen to Schofield's refreshing take on this celebratory monument.
The penultimate stop is the grandiose Free Trade Hall/Radisson Edwardian Hotel (Peter Street), where you'll learn about 'one of the most shocking events in Manchester's history', the Peterloo Massacre, which unfolded on Peter's Fields where the hotel now stands. Then finish up at Sackville Street Gardens and take a seat beside the bronze figure of Alan Turing, a pioneer of computer science, to discover how his life came to an extraordinarily tragic end.
Decoding Art is currently running as a pilot project, although there are plans to affix permanent plaques on a selection of monuments throughout the city in early 2011. Download the QR code software reader here. Images: all courtesy Manchester Art Gallery.