Memory man. Oliver East at International 3.
Neil McQuillian
Neil McQuillian traces a route through International 3 gallery's latest art exhibition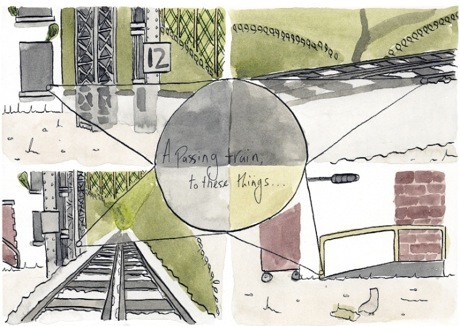 Step outside the Fairfield Street exit of Piccadilly Station and you are greeted by the cluttered clash of roads, flyover, traffic and trams. Against this drab backdrop, Bob and Roberta Smith's jaunty 'The International 3 – Art is Our Airplane!' sign acts as something of a creative beacon. But enter this artist-led gallery and its latest exhibition, Oliver East's Berlin And That, will throw you straight into the visual clamour and disorientation of another great industrial city.
Oliver East documented the journey he made, on foot, from Berlin's Alexanderplatz to the town of Frankfurt (Oder) on the German-Polish border. He then traced his route across a succession of A3 watercolour-and-ink panels that form the pages of the book, Berlin And That (the third in a series of comics loosely called Trains Are… Mint). Each page was painstakingly produced from memory – as the ambiguities in the resulting images perhaps testify. Foreground and background are often hard to pick apart; bicycles, drawn so that they appear to be set in a block of ice or amber, a playful nod to Cubism's concern with the complexities of perception. East's oblique style discourages a straightforward narrative reading, as does the accompanying text – some words are Tippexed and re-entered, some hard to decipher, some panels entirely free of words.
East doubtless taps into the concerns of psychogeography, though Berlin And That is as much a study of memory as anything. East shows us what he remembers, not what he 'sees', and so the stylistic idiosyncrasies that make the work so hard to unpick may simply demonstrate his attempts to render the oblique workings of memory.
Part of the disorientation, however, is undoubtedly due to the fact that East is not the only author of the work. The exhibition features only a third of the images from the finished book – those pages given to East's acquaintances to alter as they pleased as part of a collaborative, creative exercise. As the essay that accompanies the show notes, some of these are 'scrawled off-the-cuff by a drunken hand… interrupting without any consideration… the flow of his narrative'. Although some are impressive in their own right, there is no doubt that the alterations impact heavily on East's original illustration. In the book, where two thirds of the panels are undoctored, the disruptive effect is far less evident; East's artwork, given the breathing space it should perhaps have been allowed in the gallery, becomes less confusing, more of an enjoyable narrative. Nonetheless, as a feat of memory-made-art, East's exhibition at International 3 makes Proust's madeleine look like a piece of cake.
Berlin And That – Oliver East, The International 3, until 5 June. Free entry. Image: Oliver East/Lee Patterson (cropped).