It's the journey, not the destination.
Susie Stubbs
Susie Stubbs speaks to Neville Gabie, whose work features in both the Tatton Park Biennial and new Cheetham Hill art project, Buddleia
When Neville Gabie first came to Tatton Park, a Cheshire country mansion that is as English as a cream tea, he was fascinated by how much of it was, well, foreign. 'It's a fantastic English garden but there's hardly a plant species in it that's native,' he says. Tatton Park, a sprawling deer park, formal gardens and Georgian house owned by the National Trust, provides both inspiration and backdrop for this summer's Tatton Park Biennial – and for Gabie's latest work. 'It has a very eclectic, international collection of plants,' he says, 'and so I wanted to bring an entirely different landscape, from one of the Poles, to contrast with the landscape of Tatton.'
Contrast it does. Gabie's contribution to the Biennial, A Weight of Ice Brought from the North for You, is made primarily from a chunk of glacier, around two tonnes in weight, that has been 'harvested' from Greenland and is now housed in a glass box at Tatton. 'I spent a lot of time at the house,' says Gabie of his initial research into the project. 'I discovered Maurice Egerton, the last Baron of Tatton, a hunter and explorer with an enormous enthusiasm for bringing all this stuff back from around the world, and I wanted to play with that idea. The work was made in that spirit of appropriation – that very Victorian idea of collecting and appropriating things.'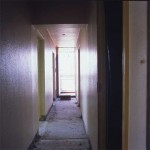 Appropriation is one thing, logistics another. To get the ice to Britain, Gabie first went to Greenland and, working with the authorities, secured it a place on a boat to Denmark. From there it travelled overland to Cheshire. In the meantime, Gabie worked with renewable energy experts at Southampton University to develop a means of keeping the ice frozen. The bespoke glass structure that houses it uses a combination of pond water and solar power to keep cool – a contrast between hot and cold that mirrors the difference between the grubby white of a glacier and the verdant setting of an English country garden. These contrasts are deliberate, designed to draw out some of the complex issues around the work: climate change, the ethics of transporting an object halfway across the world simply for pleasure and our uncomfortable relationship with our plundering colonial past.
It is not an easy artwork. The end result appears fairly prosaic – it lacks the visual impact of some of the other installations nearby, such as Steve Messam's metre-wide red lilies or Marcia Farquhar's oversized rocking horse. In fact, most visitors to Tatton may only see a curious ice-in-a-box structure when peering at A Weight of Ice – for them, conceptual art such as this leaves them cold (no pun intended).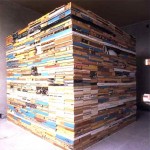 Yet Gabie argues that the finished work is only a small part of the process. His artistic CV features a raft of projects that are long-term and created not solely by the artist but by the people he encounters. In Liverpool, for example, he spent five years in a flat in a tower block, working with local residents whose homes were scheduled for demolition, and he also spent four months as artist in residence with the British Antarctic Team. 'I am fascinated with work that is a process of exploration, of starting with a seed of an idea and then following it through a range of processes and building up a community of people and relationships around you as you work,' he says. 'For A Weight of Ice, it was the people and companies who arranged flights, collecting the ice, shipping it and so on – there are so many people involved in the story.'
Telling the story of the mundane is Gabie's way of drawing attention to details that are often otherwise overlooked. In Bristol, for example, he spent three years as an artist-in-residence on a building site. 'There were 62 different nationalities, a whole other community hidden behind the hoardings of the site.' This community became the starting point for a project that traced the global network of suppliers who help build the fabric of British life. 'Many of the materials for the site, such as the kerbstones, came from China, another community like this one on the other side of the world, making stuff for a city and a place they would never see.' So it made perfect sense for Gabie to go to China and bring a granite kerbstone back to Britain, via truck, train and ferry, 'as a means of showing who those people in China were'.
Back at Tatton, A Weight of Ice similarly tells the story of communities that we in England remain blithely unaware of. 'It was a learning experience: encountering people in Greenland and hearing about their lives and what global warming might mean to them. It opens up a whole way of seeing that I would never have otherwise come across,' says Gabie.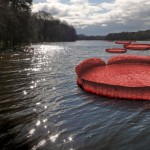 Although climate change is alluded to in the final artwork (it is, after all, a melting ice cap in miniature), the reference could easily be overlooked. Many of the subtler elements of the project can only really be found via Gabie's documentary blog. And therein lies the problem. Gabie's work speaks so quietly, and is set against such a riotous, abundant backdrop, that it risks being lost. In a world where we now expect our 'art' to be spectacular, or an 'experience' (think of any number of recent blockbuster shows, or the success of Tate Modern's turbine hall commissions), does the public have the patience for art such as this?
Gabie's work is slow, unglamorous and hard work (the kerbstone project 'nearly killed me,' he says). But it is deliberately so. 'Making art is about that whole process. I don't produce gallery-based works, or work that can be consumed in a traditional way – I've always resisted creating objects that can be bought and consumed. I prefer to work over a sustained period of time and then to create something in response to a very specific location.' This, argues Gabie, is essential. 'It takes that long to build up trust and respect within the communities I want to represent. To make it work, you have to invest the time.'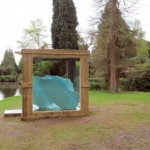 Gabie is not alone. The Turner Prize winner Grayson Perry recently attacked consumer culture. It 'makes things fast, easy and simple,' he said, 'when the meaningful things are often slow, difficult and complex.' And it's true, or at least with Gabie's work, because it is the stories he tells, from adventure to hardship, from aesthetic sensibility to globalisation, or even just the endearing tale of a travelling baron from Tatton, that make his new work so compelling. Yet without a little patience, and perhaps a bit of digging around online, you could easily walk past Neville Gabie's ice-in-a-box without ever realising that those stories were there.
As for Gabie, he has turned his attentions elsewhere, to Cheetham Hill, and is part way through a six-month research project in this corner of North Manchester, courtesy of new arts agency, Buddleia. 'The diversity of the place is extraordinary,' he says. 'It's not the same as being based in a tower block in Liverpool, it's much more fluid. How you grasp hold of that is, in many ways, much more challenging.' As usual, Gabie is working things out as he goes along, refining ideas as his relationship with the community around him evolves. And while he doesn't have any answers, and is unapologetic about his working practice, there is one thing we can and should take away from Gabie's work. The journey, more often than not, is as important as the destination.
Tatton Park Biennial, Tatton Park, Knutsford WA16 6QN. Until 26 Sept. For more information on Buddleia, check its blog. Susie Stubbs is the editor of Creative Tourist. Below: Video taken from One Minute Week, courtesy Neville Gabie. The artist spent four months as artist in residence for the British Antarctic Survey at the Halley Research Station. During the residency, Gabie updated his research blog with a one minute film every week.
Images (top to bottom): A Weight of Ice Carried From the North for You, courtesy Neville Gabie; Up In The Air, courtesy Neville Gabie (two images); Lily, Steve Messam, photo Thierry Bal; A Weight of Ice Carried From the North for You, as above.