If you go down to the woods today.
Kate Feld
Club Brenda celebrates a decade of arty club antics with the publication of a limited edition book, Strange Trees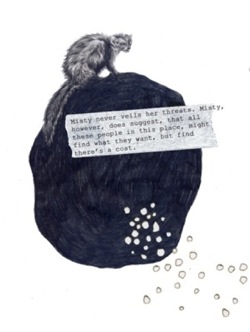 There aren't many club nights in Manchester that can boast their own book (endless rehashing of Haçienda glory days aside). But with a loyal following among the city's artists and makers, it's perhaps not so surprising that the denizens of Club Brenda have decided to celebrate their first decade with a group creative endeavour. The resulting book, Strange Trees, gets a formal launch tonight at Urbis, with live music, DJs and art all on offer.
The project has been organised by Jayne Compton, whose management of both club night and Switchflicker Records earned her this year's Best of Manchester Music Award. Switchflicker is perhaps best known for launching the Ting Tings and, currently, is home to Magic Arm (which has a US tour and collaboration with Grizzly Bear in the pipeline) and electropop band, The Real Dolls.
Compton says the book was born out of a desire to showcase the talent of Club Brenda's friends and regulars, from illustrator Savage Wolf to artists Rachel Goodyear, David Hoyle, and Coco LaVerne. What emerged, however, was much more than just a scrapbook of the club night's history – though it is also that. Strange Trees is an original work that draws heavily on fairytale archetypes, and is steeped in a dark and moody urban aesthetic.
As for the club night that inspired the book, Club Brenda is a one-off, one that brings a heady whiff of DIY bohemian craziness to Mancunian nightlife. Originally held at the Star & Garter, Compton says the night took shape in the late nineties around a core group of people that included the genre-bending performance poet, Chloe Poems and Grand Central vocalist, Veba. It has since become closely associated with the pantheistic art and music scene at Salford's Islington Mill. The house playlist, meanwhile, can best be summed up as eclectic – as such, it offers a refreshing change from the stoic turntablists who otherwise thrive in Manchester's male-dominated DJ scene. 'We're all bad DJs,' Compton candidly admits. 'It's just friends playing their favourite records for their friends.'
Compton has big plans for Club Brenda. With a series of performances in unexpected places in the offing, all incorporating live art, performance, film, music and theatre, who knows what the night's second decade might bring? We'll definitely be keeping an eye out for more strange antics.
Strange Trees Launch, Urbis, 1 December, 7-10pm. Free, no booking required. Watch Club Brenda Tsunami on YouTube. Words by Kate Feld.
Image: Rachel Goodyear (taken from Strange Trees).