Gandhi gets in on the act: Procession
Creative Tourist
A band of unrepentant smokers, taking long defiant drags; hearses with flower-filled tributes spelling out the names of much-loved (and now closed) shops; marching bands, rose queens and processional banners. These were just some of the sights that greeted spectators to Jeremy Deller's Procession along Deansgate on 5 July.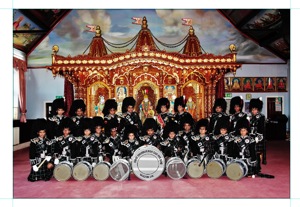 So you might expect that the exhibition on at Cornerhouse, co-curated by Deller and Salford Restoration Office, would be a simple re-hash of July's spectacle. And in some respects it is: in one room, a film of the event plays, while, upstairs, Valerie's Café (a greasy spoon from Bury Market that appeared as a processional float) has been recreated – complete with staff serving up tea and coffee. But the exhibition goes further than simple documentation. 'A procession goes past you. You go past an exhibition. It's a completely different experience,' says curator James Hutchinson. The exhibition reflects Deller's fascination with people, their stories and how those stories play out in the public arena – this, after all, is the artist best known for The Battle of Orgreave, a vivid reconstruction of one of the key battles between police and miners during the miners strike of 1984.
Procession contains some fascinating and at times slightly random artefacts: footage of Yuri Gagarin's visit to Manchester in 1961, for example, and a sweetly old-fashioned write-up in The Guardian of the mass trespass on Kinder Scout in 1932. And there are some 'charmingly underwhelming objects', too: a plank of wood taken from a Lancashire house visited by Gandhi in 1931, for example, and rubble from the remains of Friedrich Engels' Salford factory. 'The exhibition offers an obscure, subjective and alternative history of the city,' says Hutchinson. 'There are layers of stories, and we hope that people will make their own connections between the objects on display. It's an exhibition of someone – Deller's – interest in the North rather than simply an exhibition of the city. There are stories here that we hope will have resonance with everyone.'
Procession: An Exhibition, Cornerhouse (0161 200 1500). Until 23 August. Free entry. Open (galleries only): 11am-6pm Tues-Sat; 11am-8pm Thu; 2pm-6pm Sun; Closed on Mon.
Image courtesy Tim Sinclair.