Do something less boring instead.
Creative Tourist
We're all grown ups, right? We all know we're supposed to eat our five a day, get down the gym and watch our stress levels/blood pressure/weight/overdraft (delete as applicable). It's just that being so good takes up the kind of valuable time we could spend watching re-runs on 40D, wittering on Twitter or aimlessly checking eBay.
Still, a new show at CUBE should perk up the couch potatoes among you. Featuring parkour, street football and a new form of martial art developed specifically for city dwellers, it offers a window onto an altogether more active world.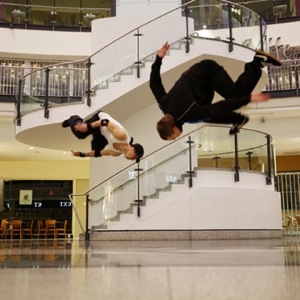 The Duellists is a case in point. Shot inside a shopping centre, this award winning film features two dubious-looking lads who at first glance appear to be casing the joint. But instead of rabble-rousing, a graceful (almost balletic) chase ensues: the duo are freerunning, and they jump and swing off escalators, stairwells and shop fronts with effortless grace. The film, made by free media pioneers, MediaShed, was shot in the Arndale entirely on CCTV cameras, subverting Big Brother for this worthy artistic-athletic cause. Inspiring, energetic and quite possibly illegal, this is the kind of exercise that's worth getting up off the sofa for.
City as Gymnasium, CUBE. Until 3 October. Watch The Duellists here. The Duellists was commissioned by Futuresonic. City as Gymnasium also features Peter Liversidge, Neville Gabie and Tsui Kuang-Yu, and includes a new commission from Lottie Child (a street training manual that can be picked up in the gallery).