Art from Manchester's Left Bank.
Creative Tourist
Chapel Street studios open their doors for a contemporary art fair with a Salford slant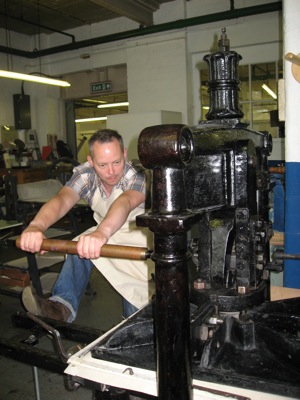 Salford has long been viewed as the slightly scruffy kid brother hanging out in the shadows while the bigger, brasher Manchester takes all the publicity and creative glory. But it's an open secret that much of the art that gives the city of Manchester its reputation as a hotbed of creativity is actually made in Salford. Artists crossed the Irwell en masse years ago, drawn by the Salford's acres of vacant industrial space, and soon artist collectives, shared studios and unofficially sanctioned live/work setups blossomed like exotic plants among the weather-beaten bricks and burned out pubs.
There is a real sense now that Salford has reached maturity and is on the verge of some kind of turning point – and it's not all down to the imminent arrival of MediaCity. From the highly welcome gastro-makeover of The Black Lion pub to the continued success of annual music fest Sounds from the Other City, there is a distinct buzz about the place. To this list of good things happening there we can add the Chapel Street Open Studios, a new effort to showcase the excellent work being made there and lure art lovers across the water.
For two weeks starting from 14 November, Chapel Street will host a series of open studio events where local artists will exhibit and sell their work. Participating venues include the venerable MASA (Manchester Artists' Studio Association, operating since 1983), the mixed media fun palace that is Islington Mill, and the Casket Works, home to the Hot Bed, Suite and Cow Lane studios. Salford's oldest church, Sacred Trinity, and its sister chapel, St. Phillips Church, will also be displaying artworks.
There'll be art demonstrations and the chance to talk with the artists about their work, which runs the gamut: you'll find textile works, fashion, prints, photography, drawings and paintings, jewellery and interior accessories. Many of the products on sale will be one-off, limited edition pieces – you can knock off some of your Christmas shopping while supporting local artists by buying directly from the producer. And if that doesn't bring a saintly glow to your cheeks, then the free mulled wine probably will.
The details:
Hot Bed Press Printmakers' Studio
Saturday 14 November & Sunday 15 November, 11am – 5pm
1st floor, The Casket Works, Cow Lane, Salford M5 4NB
0161 743 3111
Saturday 14 November & Sunday 15 November, 11am – 5pm
1st floor, The Casket Works, Cow Lane, Salford M5 4NB
Friday 20 November & Saturday 21 November, 12pm – 4pm
St Philip's Place, Salford, M3 6FJ
0161 834 2041
Saturday 21 November & Sunday 22 November, 12.30pm – 4pm
Chapel Street, Salford, M3 5DW
0161 834 2041
Christmas at Islington Mill
Thursday 26 November, 5pm -9pm
James Street, Salford M3 5HW
Open Studios at MASA
Saturday 28 November (12pm-5pm) & Sunday 29 November (12pm-4pm)
2nd Floor, Ferguson House, 11 Blackfriars Road, Salford, M3 7AQ
0161 832 3361
Image: Sean Rorke at Hot Bed Press