A thoroughly modern woman.
Kevin Bourke
Kevin Bourke on a photography exhibition at Manchester Pride that celebrates the activism and achievements of gay and bisexual women in Manchester
This year Manchester Pride celebrates its twentieth anniversary, while the Lesbian and Gay Foundation celebrates its tenth birthday. Both organisations have undoubtedly been pivotal in breaking down the barriers of ignorance in the Northwest and it's fair to say that Manchester is now recognised across the world as the gay capital of the UK.
But it's a worrying fact that women can often fade into the background of this success story, with their voices and experiences subsumed within a generic 'gay scene'. The Modern Lesbian, a photographic project that's a central part of this year's Pride Fringe, aims to redress the balance by presenting the stories of four generations of gay and bisexual women who have been instrumental in shaping the cultural, commercial and social history of gay Manchester. An exhibition at 52 Princess Street, and three days of public events will take place over Manchester Pride's Big Weekend.
The Modern Lesbian is the first project developed by Andy Brydon's Curated Place, a cultural production company set up in the wake of Urbis' closure. Over the last year, artist Rachel Adams, resident lenswoman at Contact Theatre and Band on the Wall, has been interviewing influential gay women from within the Mancunian cultural, social and economic landscape; interviews that have informed the locations and tone of the portraits she shot throughout July.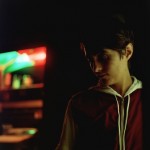 "I want to highlight the unrecognised achievements of gay women in Manchester, especially those that dared to act ahead of the curve in politics, activism and culture," says Adams. "To bring their achievements into the present I want to create a dynamic cultural space during Pride, where everyone is invited to explore the history of Manchester's lesbians, where women are given the chance to take part in a truly representative project, and where we can all try and understand what it means to be a lesbian today."
"In the midst of pulling together HomeGrown: The Story Of UK Hip Hop," explains Andy Brydon of the project's origins, "we also started research into what would have been the definitive exploration of the history of Manchester's legendary Gay Village for an exhibition scheduled to open at Urbis in August.
"This year made perfect sense for that remarkable story to come to light. Sadly, following the closure of Urbis, we found ourselves in the position where all of the initial research had been done and we knew we had a great story to tell. But we'd lost a venue that was willing to engage with the hidden history of gay Britain and all of the logistical support that comes with it.
"Rather than call it a day, we picked up the pieces we already had in place, called in the people we knew wanted to get their story out there and decided to take forward just one strand of the tale rather than let an important part of history go ignored again."
The resulting exhibition will trace how gay women have shaken up everything from activism and politics to club culture and entrepreneurialism, with participants including Pride's director, Jackie Crozier; long-standing Manchester Councillor Mary Murphy; Vanilla proprietor, Steph Kay; activist and burlesque artist Rosie Lugosi; the original Village developer, Carol Ainscow; Yvonne Edge, director of the Pankhurst Centre; Philipa Jarman from Piccadilly Records; music entrepreneur Jayne Compton; legendary Flesh DJ Kath McDermott; and the septuagenarian dominatrix Josie Pickering.
Adams is also inviting gay and bisexual women attending Pride to contribute their portraits and voices to the project at a pop-up photo studio inside the exhibition over the Big Weekend.
The Modern Lesbian, 21 August – 4 September, 52 Princess Street, Manchester M1 6JX (10am-5pm weekdays; 12noon-5pm weekends). Free. Open studio, 28-30 August, 12pm-5pm. Women who want to be involved should sign up via the website. Images: all Rachel Adams, courtesy the artist/Curated Place.