Social media expert (and competition organiser) Katie Moffat unveils the winner of our summer holiday photo competition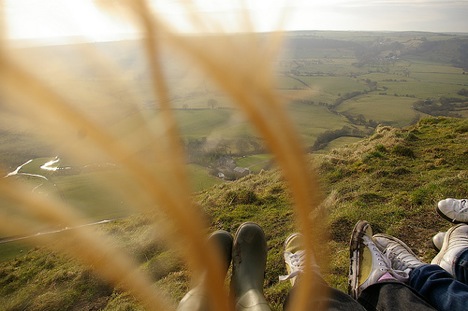 We had high hopes for this summer, but, in the end, it was a fairly typical British summer: an early glimpse of promise followed by largely uninspiring (and wet) weather. Good job then that our summer photography competition lived up to expectations.
The premise behind the competition was to capture what it means to be a Creative Tourist: is it the places you go, the people you're with or what you do when you get there? The entries were fascinating for their range of subjects and locations and, when it came to judging, our experienced panel (Christian Payne, Andrew Brooks and Matthew Bend, debated the choice of winner to the bitter end.
However, our winning image, The Hill (above), was unanimously loved by the judges for the skilful way it captures a snapshot of a day out with simplicity and yet a glimmer of intrigue. Listen to Christian's (otherwise known as @documentally ) description of the judging process and winning photo – he'll be posting an Audioboo imminently.
The Hill was taken by Lara Clarke Wardle, a photography student about to start a Masters in Fine Art Photography in the Czech Republic. Lara likes to create spontaneous pieces of work with raw emotion; here, the image comes to life thanks to her ability to capture the collective feeling of the group on reaching the top of the hill, a feeling that can be felt easily by the viewer. Discussing the winning photograph she said, 'In this particular image, I have incorporated my hair to allow the viewer to integrate themselves into the moment'.
Listen to judge Christian Payne describe the winning photo:
The standard of entries was so high that three other images where deemed too good not to get some kind of recognition. For this reason, the following images were highly commended by the judges: Loganapoli's street scene, BlueMonday650's Alice in Manchester, and an image of children playing in Kingston, Jamaica, also by Loganapoli. Images all below.
A big thank you to everyone who entered the competition – click here to see all entries.