We love new Manchester history project The Complete History of Drinking in the Northern Quarter. So we're publishing its best contributions every month. 
#1. First in the series: artist Michael Trainor sits down and talks to the king of stand-up.
There is something distinctly Victorian about Dave Perkin, owner of The Frog and Bucket comedy club. It sits on the far end of Oldham Street in Manchester's Northern Quarter, or 'LA' as Dave prefers to call it – a jokey counter-aspirational acronym for 'Lower Ancoats', where much of Manchester's industrial revolution activity once took place. He is everything you want from a comedy club owner – affable, big cigar (non-exploding variety), gold jewellery, and it is equally possible to imagine him in a previous century as the owner of one of those former smoking mills or as an impresario representing peculiar music hall variety acts.
The Frog is a success story which, like all good Northern Quarter Stories, has humble beginnings. In the 80's Dave ran The King's pub further along Oldham Street – it was a popular, working class kind of place where even at mid-morning one might see a man wearing a spiked dog collar with his pit bull straining on a chain as he murdered Danny Boy to a packed and already merry bar (I did). It was possibly the first pub to be legally required to have triple glazing fitted. With Perkin's next venture, The Little Frog, he hit on the simple winning formula of beer and laughs – so good he now has nine venues stretching from Wigan to Blackpool.
"Manchester is a good place for comedy," says Perkin, punctuating with his cigar, and indeed it is. The Northern Quarter club gets around 80,000 visitors a year, which is enough to fill Manchester United's stadium and still have a bit of a queue. He proudly points out an award where, to his own amazement, the Frog beat the same in a public vote for the best place to bring a foreign visitor.
The Frog has some illustrious alumni who started their careers there: Johhny Vegas, John Bishop and Peter Kay are a few. The character 'Den Perry' in Peter Kay's Phoenix Nights is loosely based on Dave Perkin, although Perkin is quick to point out that he has never had a fire in one of his clubs, deliberate or otherwise. He does, however, have many tales of gigs past, including the one where comedian Smug Roberts lead the entire audience out of the Frog to Bowker Vale Working Men's club on the tram for a game of bingo.
Any stand-up comedy goer will tell you that comedy can be a bit patchy – it is, by definition, an experimental craft. Importantly, then, the Frog is a kind of comedy incubator, a place where genius can develop. Sounds like a good solution for austerity Britain.
Hear Dave Perkin's Audioboo interview, or read other tales from The Complete History of Drinking in the Northern Quarter. Better yet, submit your own story. To find out more about this project, read our interview with co-founder Lesa Dryburgh.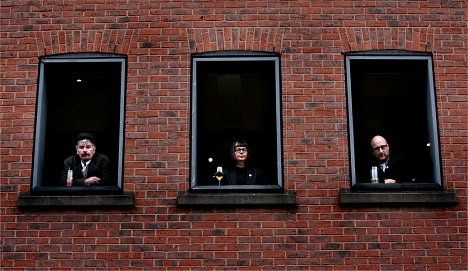 Images (top to bottom): Dave Perkin and 'Den Perry' (actor Ted Robbins); King of Comedy – Dave Perkin copyright Michael Trainor; the three directors (left to right, Michael Trainor, Lesa Dryburgh, Mark Babych), courtesy Chris Gleave.