The Manchizzle's Kate Feld rounds up what's been happening on Manchester's cultural blogs over the summer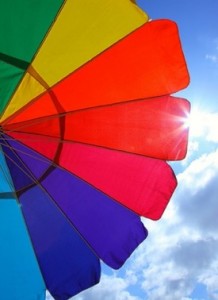 Nothing sounds more idyllic than spreading out a blanket and cracking open picnic basket before an al fresco play or concert. The sun beaming down, the clouds drifting lazily overhead … But seriously, is it crazy to buy tickets for outdoor theatre in The Rainy City? Things to do in Manchester blogger Liz says it isn't, and she's got a fair few outdoor productions under her belt. The show must go on, but we hope it goes on under sunny skies, all the same.
This summer hasn't been a slow one for visual art. Run paint run run visited the Whitworth's Outsider Art exhibition, Intuition, and liked it, as did Tryharderfailbetter, who initially had mixed feelings about the show. And Echostains gives a very timely mini rundown, with images, of some of that blogger's favourite outsider artists.
Back up Oxford Road, Bren O'Callaghan visited Unrealised Potential at Cornerhouse – more than that, in fact, he participated in it. And over in Salford Quays, Mark Page of Manchester Photography checked out the Spencer Tunick exhibition at The Lowry.
Moving over to the literary side of things, where we must congratulate Manchester writer Valerie O'Riordan for winning this year's Bristol Short Story Prize. She has written a full account of the experience on her blog, not exactly true. And Words & Fixtures has written up the Oxfam Manchester Short Story prize here, with links to the winning entry by writer Claire Massey, who blogs at The Fairy Tale Cupboard. And here's not forgetting the winner of our own Rain Never Stops Play short story contest.
Max Dunbar has been reading Anne Sexton, and wondering why he never got around to it before, and Adrian Slatcher's talking experimental fiction on The Art of Fiction. In other literary news, North and South author Mary Gaskell's house is being restored – hyperlocal news site Inside The M60 has all the details.
Finally, Ade Stevenson at The Ring Modulator has been enjoying the Manchester Jazz Festival, with lots of gig reviews on his blog. Pigeon Post blogger Matthew Britton has done a bit of investigative music journalism around one of Manchester's most myseterious bands – WU LYF. And writer Ben East (and Creative Tourist contributor) is thinking about the future of regional arts journalism over at East Angles .
Image: courtesy D. Sharon Pruitt.