The Royal Exchange is opening its autumn season in fine form: Polly Findlay's fast-paced production is bawdy, scandalous and lots of fun, finds Kate Feld.
Written in 1675, William Wycherley's The Country Wife is a rollicking farce in which Restoration rakes openly seek to cuckold each other. But refreshingly, the fair sex give as good as they get. They're not helpless victims here but willing and lusty conspirators, who enjoy bawdy wordplay and sex every bit as much as their male counterparts. And anyone who doesn't enjoy watching them go at it in Polly Findlay's triumphant new production at The Royal Exchange may need to have their sense of humour professionally adjusted.
Handsome knave Mr Horner (Felix Scott) hires a doctor to put it about that he's lost his manhood in order to gain access to the boudoirs of respectable married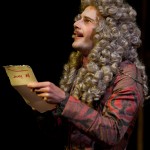 women.  And, as luck would have it, his uptight friend Pinchwife (Nick Fletcher) is newly arrived in London with his beautiful young bride in tow, the Country Wife of the title, who isn't as innocent as she seems. Amy Morgan turns in a masterful interpretation of what could be a challenging role – Mrs Margery Pinchwife is equal parts ditzy and conniving – and quickly makes the audience her co-conspirator. The entire cast is wonderful, but special mention must go to the frizz-wigged Sparkish (Olivier Gomm) a foppish nincompoop who gets some of the best lines, and steals almost every scene he's in.
The period costumes were distractingly incredible (hat tip to designer Helen Goddard). There were so many costume changes that I found myself losing the first few lines of each scene gazing in awe at a glorious brocade coat or the detail on a sleeve. This was an age where the men were peacocks, stepping out in doublets and hose, high heels, and long flowing wigs over painted and powdered faces. By comparison, the women's costumes, with their weirdly flat chests and long floor sweeping skirts, were as sober as nuns' habits. The entire set was a riff on a birdcage, which suited the proscenium setting of the Exchange very well. The set was minimal, with several large taps from which wine flowed abundantly, and gates which were frequently locked, with gusto, to keep the women in. Not that they stayed in, mind you.
A cultural product of life in Charles II's showy and hedonistic court, The Country Wife was considered too scandalous to be performed for nearly two centuries, from 1753 to 1926, when it was rediscovered in the comparatively loose days of the roaring twenties. It is wickedly, delightfully dirty, with bawdy jests flying thick and fast and sight gags that leave very little to the imagination. No, this sort of thing would never fly with the Victorians, or Mary Whitehouse for that matter. Those people who enjoy moaning about the loss of decency in the modern age, and the comparatively golden days of upright Olde England should all be given free tickets. It would certainly give them something to think about.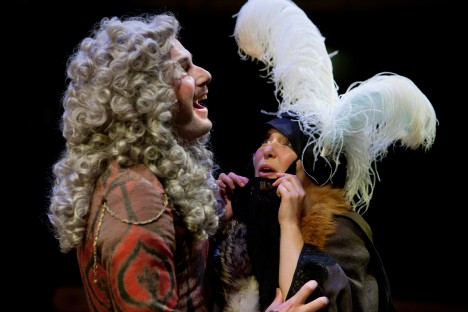 The Country Wife, to 20 October, The Royal Exchange, St. Ann's Square M2 7DH. Tickets £10-£35. For booking and full schedule of performances visit the website. Images: (from top) Felix Scott as Mr Horner and and Amy Morgan as Mrs Margery Pinchwife, Felix Scott as Mr Horner, Felix Scott as Mr Horner and and Amy Morgan as Mrs Margery Pinchwife; all photos by Jonathan Keenan courtesy of The Royal Exchange.