Kevin Bourke discovers how real life mirrors the plot of one of Shakespeare's finest plays, courtesy of the Lowry Theatre.
While imprisoned on Robben Island, Nelson Mandela and his fellow inmates took turns reading from a clandestine copy of the Complete Works of Shakespeare. When apartheid was defeated and the prisoners freed, they each signed a passage in the book that had meant the most to them. Nelson Mandela's choice was the famous passage from Julius Caesar that begins "Cowards die many times before their deaths/The valiant never taste of death but once."
Many years later, the RSC's Gregory Doran saw the volume and, noting also that Julius Caesar was the most annotated of all the plays, began to think of the brand-new, all-black production of Julius Caesar that has been wowing crowds in Stratford-upon-Avon and London before reaching The Lowry tomorrow night.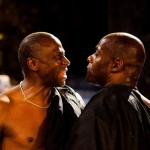 "Mandela had asserted that it spoke in a particular way to his continent," says Doran. "Then, when I was talking to John Kani, the South African actor, he said to me 'Julius Caesar is Shakespeare's African play'. He told me that Julius Nyerere, the first President of Tanzania, had translated the play into Swahili and also that it's the play that is the most often performed in Africa." But he emphasises that "rather than this being 'a black production of Julius Caesar', this is a version of Julius Caesar set in a particular way. Therefore it requires black actors, and that's a distinct difference.
"If you consider the history of the continent since independence over the past 50 years, it has witnessed a series of freedom fighters turned democratically elected presidents turned despotic, pulling power to themselves in a one-party state. The fear of that tyranny has led to multiple military coups, assassinations and civil wars which continue to ravage the continent. That is then followed by a military coup which is followed by a much worse dictator.
"That's happened in 33, I would say, of the 53 African countries in the past 50 years – and I've just told you the plot of Julius Caesar!" But Doran is careful to point out that this production isn't a criticism of the African continent. "Post-colonial Africa is just a concentration of history that allows us all a metaphor to apply to the rest of the world. How do we act in the face of tyranny? Is it right to assassinate? Isn't it right to remember that however idealistic we may think we are, the next person has a different agenda?
"While we were discussing the play last year, the Arab Spring was unfolding and we realised the key thing was not whether they were going to get rid of Gaddafi, the key thing is what happens next? And that's really the big political issue in Julius Caesar, too, what happens after the assassination. And that should make the second half the most urgent bit in our production."
To help with that sense of urgency, the interval has been cut. "Shakespeare didn't intend intervals," reckons Doran. "These are quite short plays: it's two hours 15 straight through; therefore it's much more exciting to have no interval."
The brilliantly exciting production also looks great, designed by Michael Vale with lighting by Royal Exchange regular Vince Herbert. "Michael and I realised that many of the great public events in Africa – whether it's a massacre in Mogadishu, or an ANC rally in South Africa, or the Rumble in the Jungle, for that matter – often take place in a football stadium, and the football stadium echoes a Roman amphitheatre or the Colosseum. So we sort of smudged those together for the stage set. Then Michael came across these astonishing pictures of Africans in ceremonial dress at a funeral. The outfits were literally just cloth slung over the shoulder and wrapped around. Or togas!" he laughs.
Julius Caesar, The Lowry, 2-6 October 2012, £20-£24. Like theatre? Read our interview with Richard Bean ahead of his black comedy The Heretic at The Lowry (on now) or try some secret theatre from Happystorm theatre as part of the Manchester Weekender: Borderline Vultures runs 6-28 October 2012.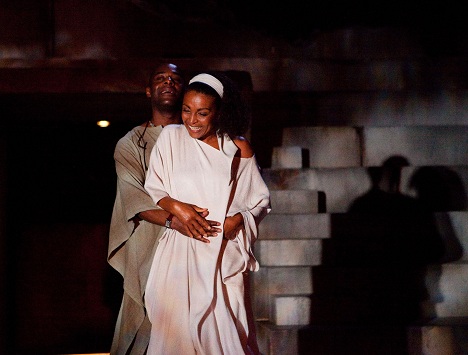 Words: Kevin Bourke. Images (top to bottom): Theo Ogundipe; Cyril Nri and Paterson Joseph; Paterson Joseph and Adjoa Andoh, all appearing in Julius Caesar, courtesy The Lowry.