Creative Tourist is undergoing a behind-the-scenes facelift: your new art and culture blog will be unveiled next month
Most of you will know that Creative Tourist was set up to celebrate the art and culture of its home town, Manchester; a blog created on behalf of its collective museums and galleries in 2009 to create 'insider guides' to the best galleries, exhibitions, museums, history and more of this city that we call home. Back then, we didn't realise how successful CT would become, winning awards, gaining a wonderful, loyal readership, creating a platform for both the established and emerging talent in Manchester and occasionally beyond, changing perceptions of Manchester, and very occasionally standing up for that which we are most passionate about: art and culture.
All good things must come to an end, and Creative Tourist as you know it is about to change.
But before you get all misty-eyed, our news is good news. With the continuing support of the museums and galleries in Manchester (particularly The Whitworth Art Gallery, The Manchester Museum and Manchester Art Gallery), funding from Arts Council England, and the support of Visit Manchester, Creative Tourist isn't about to be shelved. It's about to expand.
Next month we launch our brand new website. We've been planning it for ages, regularly working until the small hours to make it the best we can. Over the next month you may start to see some changes on the site – please bear with us as we get the new site up and running and check our new terms of use and About pages for details of the all-new Creative Tourist. The new site will still cover everything that we always have – art and culture and more from Manchester – and it will cover new things too.
We will of course keep you posted, and if you have any comments, ideas or suggestions (nice ones please; we're gentle souls), then leave a comment here, Tweet us @creativetourist, or email Susie and Kate via info at creativetourist dot com. In the meantime, we are looking for contributors, so get in touch if you think you'd like to get involved.
Thank you to everyone who has supported us over the past three years, and thank you for reading, sharing and commenting on our site; we look forward to welcoming you all to the new Creative Tourist soon.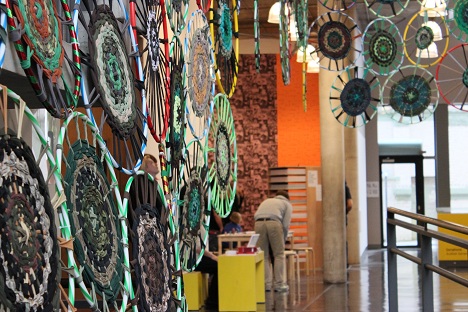 Images (from top): The Brink, Liverpool; Jemima Wyman, Collective Coverings, Communal Skin (2012) at FACT, part of Liverpool Biennial 2012, both Creative Tourist.