Jo Nightingale delves into the world of outsider art at the Whitworth Art Gallery's latest art exhibition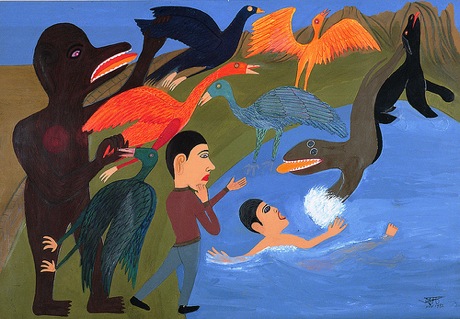 To anyone that knew him, Henry Darger was an unremarkable man. An American orphan shunted from one institution to another, he became a janitor at 16. His life was a solitary and simple one. And yet in 1973, when Darger was 81, the outside world stumbled upon his life's work: piles of handwritten pages and hundreds of outsize illustrations crammed into his tiny Chicago apartment. The discovery of this incredible, obsessive work, which focused almost entirely on the adventures of the fictional Vivian Girls, was important not just for the until-then ordinary Darger. It also marked a turning point in the recognition of the art created by 'outsiders', those self-taught and often isolated artists that exist outside the traditional art world.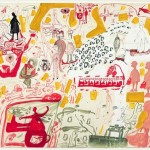 So it's fitting that Darger's work takes pride of place in Intuition, an exhibition of more than 150 works from the Whitworth Art Gallery's new 'outsider art' collection that opens next week.  Earlier in the year the gallery received the unprecedented gift of almost 800 drawings, paintings, textile works and sculptures by such artists, the first collection of its kind to be acquired by a British museum.
The collection was the work of art dealers Victor Musgrave and Monika Kinley, who found a freshness and passion in the kind of art that is often marginalised from the mainstream, and in the kind of artists driven purely by their own visions and desires, rather than concerns about reception, artistic profile or financial reward. 'People producing this kind of art often feel it "has to be made", to fulfil a personal need,' says exhibition curator Bryony Bond. This approach appealed to Musgrave and Kinley, who found most contemporary art stifling and felt that the establishment had a stranglehold on both creators and observers.
'Musgrave brought outsider art into the public sphere in the UK, with an exhibition at London's Hayward Gallery in 1979, and their collection still challenges preconceptions about the nature of art and artists,' says Bond. 'It was therefore very appealing to the Whitworth, where we're keen to confront traditional boundaries, while our position within the University of Manchester was attractive to the collection's trustees.'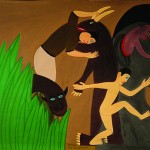 The exhibition begins with a self-assured watercolour by a pivotal figure in outsider art, Adolf Wölfli. A psychotic mental health patient in the 1920s, Wolfli found serenity by taking up drawing; arousing the interest of his psychiatrist and, later, the experimental artist Dubuffet. It was Dubuffet's championing of what he called "Art Brut" that paved the way for the recognition of artists like Madge Gill, whose work can also be found in this show. A medium by trade, Gill was said to be channelling her spirit guide Myrninerest (my inner rest) when making thousands of ink drawings between the 1920s and the 1960s. With their geometric patterns and rosebud-lipped faces, Gill's pieces exhibited here have an appealing, art deco feel. Strikingly heavily-worked, they are just one example of an intricacy evident across the exhibition, from Chris Hipkiss's dense industrial landscape to Anna Zemánková's elaborate plant forms.
'I think that's part of the attraction of these works: they haven't been dashed-off,' says Bond.  'They're labour-intensive and also very accessible, which challenges common perceptions of contemporary art.' The large scale, vivid palate and accessible style of Darger's work are a highlight of the exhibition. Unable to draw figures freehand, Darger adapted his characters from tracings or cut-outs of children's illustrations, though in his versions the children are sometimes naked and transgendered.
It is hard not to worry about some of the insights this exhibition gives, into interior worlds the artists didn't intend making public, but its curator says she's worked hard to ensure those still living are comfortable with being shown. 'It's a difficult and controversial area, and some artists are more engaged than others,' says Bond, 'but it has become quite common for outsider artists to move into the mainstream.'
The last decade has seen increased interest in outsider art, with Jarvis Cocker's 1999 documentary series followed by biopics such as The Devil and Daniel Johnston, which focuses on the outsider artist of the same name. As awareness of the work grows, so too does public appetite – London's Museum of Everything, for example, which describes itself as 'a space for artists and curators outside modern society', recently exhibited at Tate Modern. Interestingly, after this first exhibition, the Whitworth intends to show its new acquisitions on equal terms with its other contemporary and modern work.  'We want to allow people to evaluate the work on its own terms, as openly as possible,' says Bond, suggesting that, like race- or gender-based distinctions, the value of 'outsider art' as a separate category could soon be open to question.
Intuition at The Whitworth Art Gallery opens on 26 June 2010 (until summer 2011). Free entry. Jo Nightingale is a freelance writer and communications consultant, who has written for Manchester Confidential, Big Issue in the North and The Manchester Review. Images (top to bottom): Perifimou (Alexander Georgiou), Lost on the frontiers of Hell and Paradise, 1982; Carlo Zinelli (1916-1974), Untitled; Perifimou (Alexander Georgiou), Forbidden Territory, 1986; Chris Hipkiss, An Other Han, 1998. All copyright Musgrave Kinley Outsider Art Collection, Whitworth Art Gallery.