Looking for things to do in Manchester? Look no further: art and culture event, the Manchester Weekender brings the best, most unusual and downright entertaining things to do right to your doorstep
Looking for one-off cultural experiences, things off the usual radar? How about the Flaneurs Guide to the Northern Quarter (with sherry and cake), secret gigs and secret theatre, David Shrigley, Will Self, Hockney to Hogarth, a radical print shop, A Clockwork Orange, pop-up cinema, speed chess, Lawrence of Belgravia, your own flashmob photo show, and Bad Language? Read on for our guide to the urban events on during the Weekender.
FRIDAY 12 OCTOBER 2012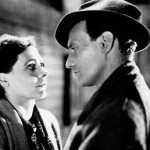 AFTER HOURS. Whether you're at work, study or play this Friday, make time for Manchester Artists' Book Fair at Manchester School of Art (2pm-7pm; also Sat, 11am-5pm, free). Now in its 7th year and run by Hot Bed Press, expect handmade books, 'zines galore, small publishing and letterpress masterpieces, altered books and more from over 50 stands, all in the setting of the lovely Holden Gallery. Head further up Oxford Road for two new exhibitions at the Whitworth: Hockney to Hogarth: A Rake's Progress (6 Oct-3 Feb, free) and the world premiere of new, Chernobyl-inspired work by Jane and Louise Wilson (6 Oct-27 Jan, free). Early evening sees a clutch of high-profile cultural delights: Songs of the Caged Bird at the People's History Museum (6pm-9pm, £12-£24), a new jazz song cycle commissioned by Manchester Jazz Festival, performed by the city's finest jazz diva, Doreen Edwards, and with a walk and supper thrown in; Pulitzer Prize-winning author Richard Ford at the Whitworth (now sold out); and our wonderful Film Night at the 1830 Warehouse (7pm-1am, £7.50). Pop-up cinema party, The Film Night screens "most romantic film of all time", Brief Encounter in the world's first railway warehouse (now sold out); a 1940s-themed after-party wraps things up at nearby Gorilla. The adventurous should try Borderline Vultures at a secret location at The Quays (7.30pm-8.50pm, 12-14 Oct, £10/£12), an immersive, 360-degree theatre that puts you, the audience, at the centre of the action. Note that the matinee performance on Sat 13 Oct (2.30pm) has a special £7 ticket: quote 'weekender' when booking (on 0843 208 0500). The energetic can give Action Hero vs. GO Project a go (Gorilla, 7.30pm-9pm, £5/£8), Word of Warning's "defiant, brazen, half-cut version of a faded comeback gig for an audience who like it loud".
SATURDAY 13 OCTOBER 2012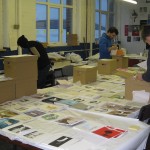 AFTER BREAKFAST. Get your hands dirty today: try The Radical Print Shop (10am-1pm People's History Museum; 2pm-5pm John Rylands Library, drop-in, free). The event combines two of the things we love most in life: Manchester's political/protest past and proper, ink-on-paper print. Hot Bed Press show you how to make your own screenprinted posters, banners and more, while using the People's History Museum – the place that pays homage to the nation's political campaigning past – as inspiration. If you're at the library workshop, don't miss Fifty Years of a Clockwork Orange (until 27 Jan, free), an exhibition about one of the 20th century's most important novels in one of the world's most important libraries. Bloggers should give Blog North #3 a whirl; artists and creatives should head over to The Quays for Islington Mill on Tour (The Egg, MediaCityUK, 12pm-3pm, free). Here, Salford's arts venue brings its own brand of DIY creativity to Media City; get involved in screenprinting, sound systems, illustration and experimental radio. Also at The Egg, check out one-day exhibition, "Hello? Can you feel me?" Leckey and Marclay Remixed (11am-4pm, free). The two video works by two internationally-lauded artists, recently acquired by The University of Salford, play for your pleasure.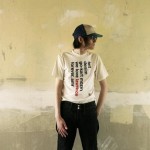 AFTER LUNCH. Those of a physical bent can compete at The Manchester Museum's Speed Chess (12pm-1pm, free): a game of chess played with trainers, devised by code-breaking genius Alan Turing (who also happened to be an Olympian runner). The best new performance and live art is on the menu at BLANKSPACE, Castlefield Gallery (12pm-5pm) and Z-arts (6pm-10pm, all free). Emergency, "Manchester's marathon of the bizarre, the beautiful and the bold", returns for its 13th outing at the three venues, with over 30 pieces of live work. Dog lovers absolutely can't miss Walkies! (now sold out), a guided tour of the south of the city centre for you and your four-legged friend (also check The Manchester Museum's Breed: The British and their Dogs, 6 Oct-spring 2013, free). There's loads of railway-inspired film on in our pop-up cinema in the atmospheric 1830 Warehouse: Japanese anime Steamboy (1pm-3.15pm, £5adv/£6) is worth a punt, or wait for Lawrence of Belgravia (4.30pm-7.30pm, £8adv/£10). This intimate, smart documentary about cult 1980s singer, Lawrence, is followed by a Q&A with Dave Haslam, filmmaker Paul Kelly and Lawrence himself.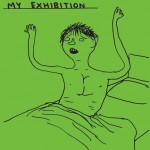 AFTERNOON. Cornerhouse is the location for the huge new David Shrigley exhibition, HOW ARE YOU FEELING? (6 Oct-Jan 2013, free), which features new drawings, sculptures and performances, much of the work inspired during a two-week residency at Cornerhouse in the weeks immediately leading up to the opening. This afternoon the artist himself gives a one-off Show & Tell (now sold out). It promises to be a unique, playful talk about Shrigley's work, interests and working methods direct from the horse's mouth. Also at Cornerhouse is Composite: Feedback (3pm-7pm, free but booking required), a multimedia showcase and "live archiving" event that mixes spoken word, live sampling, notation and projection in one self-generating feedback loop.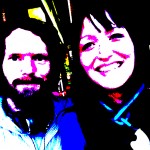 AFTER HOURS. End the day with a few events designed to push a few boundaries. Biopunk at Madlab (6pm-7pm, £4/£6) is the official launch of Comma's latest short fiction collection of the same name; here, writers ask whether science needs to grow a conscience, or whether we just need to stop being so suspicious of science. Bunford & Kashiwagi: In The Mix fronts one of the Whitworth's near-legendary After Hours events (7.30pm-10.30pm, free). In it, Huw Bunford (Super Furry Animals) and artist Naomi Kashiwagi crank up the volume to give a site-specific, live performance that involves re-appropriated records, tape and some rather unexpected materials (plus food, late bar, socialising and live drawing from artist Naomi Kendrick). Finally – finally! – head back over to Salford for Oneohtrix Point Never at Islington Mill (9pm-late, £10), as the Mill joins forces with Fat Out Til You Pass Out, tonight featuring the Brooklyn-based experimental musician, Oneohtrix Point Never, AKA Daniel Lopatin. With his latest record, Returnal, topping many year-end lists for 2011, seeing Lopatin perform live is an uplifting end to the day.
SUNDAY 14 OCTOBER 2012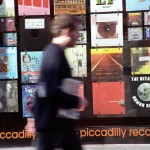 AFTER BREAKFAST. Today is all about the Northern Quarter, and you're big enough to find your own breakfast/brunch there (though we do like new pizza place, Slice, while Home Sweet Home has also been our hang-out of late). Budding photographers must sign up for All in a Flash (now sold out). Led by the city's fave snapper, Len Grant, the day-long masterclass takes the narrow streets, street art and boutiques of the Northern Quarter as inspiration. You'll not only learn how to take pictures like a pro, you'll produce and stage your own flashmob exhibition on the streets that so inspired you, with everything documented by Madlab (own camera required). Elsewhere, take a communal walking tour with a difference. The Flaneurs' Guide to the Northern Quarter (now sold out) is led by Northern Quarter Stories, a group of locals dedicated to recording the quarter's 240 year-long history. Add your own experience, then enjoy sherry and cake with other Weekenders. Fave bar Common hosts Another Common Affair (1pm-8pm, free); expect a celebration of the finest DIY and self-published artwork that the city has to offer; listen to performance poetry at One Question, with Alabaster de Plume (2.30pm-3pm, free) at the Manchester Craft & Design Centre; or hear Tales of Bad Language at The Castle Hotel (3pm-6pm, free), as two of Manchester's most popular live literature nights join forces for an afternoon of stand-up storytelling. Round it all off with a secret gig. Red Deer Club Secret Sessions (now sold out) will meet you at Manchester Craft & Design Centre and take you to some of the Northern Quarter's more unusual music venues for three, one-off performances (ticket required for each gig).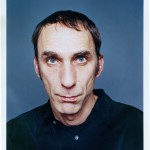 AFTERNOON. Out of the Northern Quarter, fill up on film again in our pop-up cinema at The 1830 Warehouse: we screen Days of Heaven at 4pm (to 6pm, £7adv/£8), Terence Malik's 1978 classic of love, jealousy, fire and, er, a plague of locusts. And buy your tickets for our closing event: 'Close Up' featuring Will Self at the Royal Exchange Theatre (now sold out). Here, the Booker long-listed author talks about his latest book with Manchester's own DJ, historian and cultural commentator, Dave Haslam (tickets are selling out fast, mind).
AND THAT'S IT: weekend over. If this guide to the Weekender isn't quite you, then try our guide for families or the Classic Weekender, or else check the full listings and pick and choose from our 80 or so events.
Can't make Manchester this weekend? The idea behind the Weekender is that it highlights the start of the city's autumn cultural season: festivals, events and major exhibitions run throughout the autumn and winter. Join our mailing list and we'll keep you posted about the best of them.
Images (top to bottom): Kirsty Almeida, courtesy the artist; Rob Ryan, part of The First Cut, Manchester Art Gallery, October 2012, courtesy the artist; Brief Encounter; Hot Bed Press; Lawrence of Belgravia; David Shrigley, Wake Up (2012), Copyright and courtesy the artist; Bunford & Kashiwagi: In the Mix; Northern Quarter Manchester, Piccadilly Records, by Len Grant; Will Self.