Lauren Strain tracks the trend for Manchester gigs in strange spaces – and looks forward to Songs of the Caged Bird, Bunford & Kashiwagi and Red Deer Club's secret sessions.
Manchester is earning something of a reputation for itself as a place where music and performance are woven into the fabric of the city – and particularly into its little-known nooks and crannies, its usually off-limits spaces and empty buildings. To name a few, over the past year or so we've seen the recently restored Victoria Baths play host to a collaboration between Norwegian vocal ensemble Trio Mediaeval and trumpeter Arve Henriksen, Björk showcase her half-science implements, half-app instruments for the 2011 Manchester International Festival, a musical installation by the Royal Northern College of Music at Piccadilly train station, and local promoters Now Wave stage their 'New Sounds of the North' gig for FutureEverything in a disused office space.
But with so many artists and organisations striving to push the boundaries of where music can be presented and experienced, are we becoming inured to genuinely new and odd ideas? After all, heading to a crypt for an immersive audio-visual performance now seems almost as humdrum as hitting up the Academy for a rock gig; and with promoters competing to outdo each other in the unusual venue stakes, we're occasionally seeing quality sacrificed for irreverence. It's not just a local thing either: take the Bloc festival, which this year had to be shut down mid-way through its first night, due partly to the London Pleasure Gardens site – which had promised to be a magical urban wonderland – being only half-finished and unable to cope with the volume of attendees.
"Heading to a crypt for an immersive audio-visual performance now seems almost as humdrum as hitting up the Academy for a rock gig…"
When these experiments are done well, however – and not purely for the sake of gimmickry – they feel anything but contrived, serving not only to make an event more memorable for the audience but also to illuminate and even enhance the music itself. Among the most powerful was the promenade concert last year led by violinist Alina Ibragimova for a group of just 100 through some of the rarely-seen 17th-century rooms of Chetham's School of Music. Down shadowy corridors and into golden pools of light we followed her, Peter Pan-like.
This Friday, the People's History Museum's Grade II-listed Pump House plays host to composer George King's Songs of the Caged Bird, a song cycle inspired by the American Civil Rights Movement. Commissioned by Manchester Jazz Festival (and premiered there this summer), Songs of the Caged Bird sees King joined by jazz vocalist Doreen Edwards and musicians from the RNCM to deliver a moving set of pieces that take as their touchstone Maya Angelou's 1969 book I Know Why the Caged Bird Sings and expand its messages with samples of speech, poetry and historic sermons, and piano and strings. With the People's History Museum being the nation's only institution dedicated to the progression of democracy and equality – as well as to Manchester's socialist past – the Pump House should provide an appropriate setting for a work exploring social and racial issues that are still relevant today. As well as the gig itself, there's an optional walking tour beforehand that sets out Manchester's own civil rights history.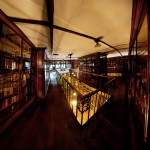 Elsewhere, the Weekender continues the city's new tradition of music in unexpected locations by filling three normally hushed spaces – the Manchester Museum, the Whitworth Art Gallery and the John Rylands Library – with found sounds and ambiences collected from the same venues by Super Furry Animals' Huw Bunford and artist Naomi Kashiwagi, while folk promoters and label Red Deer Club surprise tiny audiences of 20 with three gigs in secret locations. Open your ears, don some sturdy footwear and discover new places in this on-going musical mapping of Manchester.
Songs of the Caged Bird, 6pm-9pm (walking tour starts 4.30pm at Victoria Station), Friday 12 October 2012, £24-£12. Bunford & Kashiwagi, The Manchester Museum (2pm-3pm) & The Whitworth (7.30pm-10.30pm), Saturday 13 October 2012, free; and John Rylands Library (3pm-4pm), Sunday 14 October 2012, free. Red Deer Club Secret Sessions, meet at Manchester Craft & Design Centre, 3.30pm, 4.30pm & 5.30pm, Sunday 14 October 2012, £3 per gig.
Image (top to bottom): People's History Museum, interior hook in the Pump House, Susie Stubbs for Creative Tourist; John Rylands Library by Andrew Brooks, one of the venues for Bunford & Kashiwagi: In The Mix. Courtesy and copyright: Andrew Brooks.