It's not all doom and gloom: Cornerhouse and the Library Theatre Company sign a £19m deal to open a new arts centre in Manchester in 2014.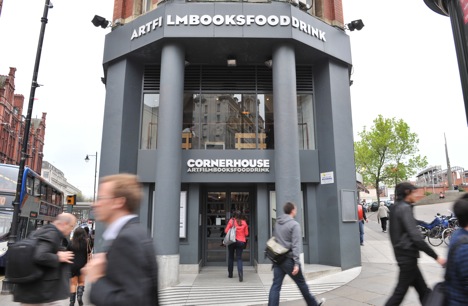 Working in the arts has, of late, been a little depressing. Waiting for the funding axe to fall, and then watching it sever a few public sector arteries hasn't been a great deal of fun. So it was with surprise that we received news last week of Manchester City Council's plan to fund a new £19m arts centre in the city centre, due to open in 2014. The development on First Street will act as the joint home of an expanded Cornerhouse and the homeless Library Theatre Company, currently based out at The Lowry.
The centre will give Cornerhouse some much-needed breathing space. Its existing building, although in a great location by Oxford Road Station, is far too small for an organisation that remains Manchester's only art-house cinema, staging sprawling digital arts festivals such as this October's AND, and which has increased its footfall by a staggering 88% in the past few years. Instead of three cinema screens, then, the new improved Cornerhouse will have five, as well as a 500-seat theatre, an outdoor performance space and a huge new gallery. For those that rate Cornerhouse for its food and drink, fear not – the plans also show an 'impressive' café.
"Bringing the Library Theatre Company and Cornerhouse together under one roof will not only help safeguard our future but most importantly open up exciting new creative opportunities'" says Cornerhouse director Dave Moutrey. "Both organisations are very audience-focused and are committed to producing great art. Our commitment to both will help us create what will be a unique and world class production centre."
If we don't invest in our combined cultural future, it's not exactly likely that anyone else will
As you'd hope of something bankrolled by Manchester City Council, the centre comes with a sound economic rationale attached. The £16m that was previously earmarked for a new home for the Library Theatre, ousted from the dingy basement of the Central Library as it undergoes a three-year renovation, will be ploughed into this new space after the proposed development of the old Theatre Royal proved unfeasible. The centre is also part of a wider regeneration strategy for the Whitworth Street/Deansgate area and is designed to kick-start investment there – the argument being that if people start flocking to Cornerhouse and the Library Theatre, then other developers will move onto the 20-acre First Street site. The Council estimates that around 10,000 new jobs will be eventually created by the development.
Spending significant sums on something as 'soft' as culture when all around the public sector is getting squeezed is a brave step for the Council but one that, ultimately, could pay off. After all, if we don't invest in our combined cultural future, it's not exactly likely that anyone else will. Here's looking forward to 2014.
Find out what else is happening at Cornerhouse and it's new arts centre: read our guide to HOME.