Beezer captured the the wild days of British Hip Hop on film. He talks to Susie Stubbs
Blogging, online magazines, Facebook, Twitter, all that desktop, self-published, sub-cultural noise… it's not always been this way. Back in the late 1980s, fanzines came in one format: paper. Magazines were monthly, and dominated by mainstream artists and musicians. The internet and email? Put it this way: the only in-box most people were familiar with back then could be found at their front door.
So when Beezer, the photographer who documented the music scene in Bristol in the 1980s, announces that he'll never be a convert to all things digital, it comes as no surprise: this is a photographer who honed his skills in an era that, today, feels like ancient history. 'There is still a difference between a roll of perfectly exposed film and a digital print,' he says. 'The quality is just so much better with film. And it lasts.'
Andrew Beese – Beezer – is responsible for much of the documentation of the early years of UK Hip Hop, and is probably best known for his images of The Wild Bunch (whose members went on to form Massive Attack). Born in Bristol in 1965, he fell into photography by chance. 'I went on an AV course when I was 16, the first of its kind in the country,' he says, 'and I had a choice between design and photography. It was the first time the Mac had come out and it was so slow – too tedious.' So the young Beezer chose the camera. He picked up his first commercial job while still at college and pretty soon began scraping a living as a photographer.
'I started taking photos when I was a teenager. From around 11 years old I was going out and I always had an interest in the music, going to all the gigs. Bristol is a small enough place to meet up; it was a close knit community.' Most of Beezer's friends were DJs and, with Technics' decks fresh out (and affordable), those DJs began creating their own, unique sound, one that was the result of 'all kinds of influences – punk, funk, reggae, dub, US Hip Hop'.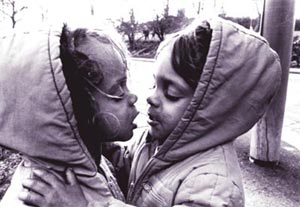 It didn't take long for the photographer to turn his lens on his friends. Beezer reckons 95% of the shots from that period aren't posed, underlining just how much a part of the scene he was – he was able to be an observer without being observed, and, perhaps, be around enough to ensure that he was always in the right place at the right time. 'It's not just luck, though,' he says. 'You need to be able to prompt your subjects, make contact, find out about their set and when the peak songs might be. But that picture of The Wild Bunch [above] – to catch them all like that, in that one perfect shot, it took a roll of film and yes, there was an element of luck there. You just have to keep trying until you get your shot.'
Beezer's work forms part of HomeGrown: The Story of UK Hip Hop, currently on show in Manchester. A sprawling exhibition that traces a route from Hip Hop's American origins through to contemporary acts such as Dizzee Rascal, the show is made up of rare audio, photography, posters, magazines and clothing, much of it drawn from the personal collections of contributors such as Malcolm McLaren, Normski, Semtex, Greg Wilson and Milo. It is these personal collections that were to prove crucial in providing the documentary backbone for the show. As Beezer himself notes, 'we had no idea at the time of the impact the scene would have. No one was thinking about where it was going to go – it was just a now and then thing. It was very unsupported. Magazines and the media showed zero interest, they wouldn't have it at all; it was all about indie bands as far as they were concerned. And there were no outlets at that time – that's what being underground really meant.'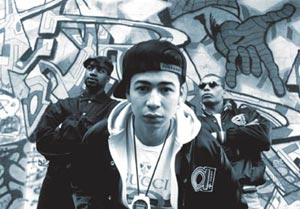 And that's why, perhaps, this show at Urbis is about more than just display. The early days of UK Hip Hop took place in a cultural landscape that's alien to our social media-savvy eyes. This was subculture before it became fashionable: it wasn't recorded in the mainstream media and it didn't interest academics. Beyond the fanzine and the photograph – both of which were relatively expensive to produce – there were few mechanisms by which those involved could get their message out. So what remains of those historic years can only be found in personal collections or in photography such as Beezer's. It's to Urbis' credit that this first stab at pulling some sort of history of UK Hip Hop together works – even if, at times, the content of the show is necessarily subjective. 'Hip Hop has always been underrepresented in the UK,' says Beezer. 'This show is a great tribute to all those artists involved.'
It may be a tribute, but HomeGrown should also perhaps serve as a warning: although we can now self-publish to our heart's content, we tend only to do so in digital formats. In 20 years' time, will the imagery and the ephemera of the contemporary underground survive? Or will we take our social media for granted, let our digital content dissolve in the ether – and leave no trace? It looks like Beezer might have a point about film versus digital after all.
HomeGrown: The Story of UK Hip Hop runs at Urbis until March 2010. Free entry. Beezer's work can also be seen here.
Images (top to bottom): The Wild Bunch, Singer Ari Up's twins, Pablo and Pedro, Tim Simenon (Bomb the Bass), all by Beezer, courtesy the artist.