Jessica Lack talks to art photographer Richard Billingham, as a new group show featuring his work opens at Castlefield Gallery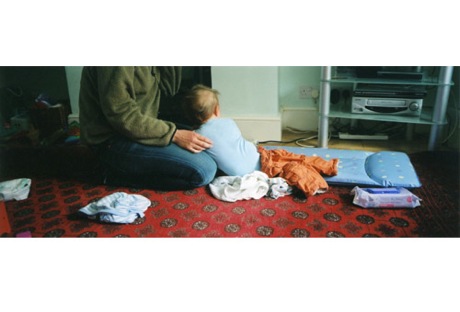 Richard Billingham didn't have to journey far to find fame – he found it at home when he trained his camera on his mum and dad in their council flat in Cradley Heath, leading to a series of startling photographs that secured him a place in the now-legendary Royal Academy show, Sensation. Billingham went on to spens the better part of the last decade travelling the globe in search of subjects. From the lush landscape of Ethiopia to a dirt road in Pakistan, he has photographed the world with the same haunting yet revelatory gaze that first shot him to fame in 1997 and ultimately won him the Citibank Photography Prize that same year. As a new exhibition of his work opens at Castlefield Gallery (a group show that also includes Mark Wallinger), Jessica Lack talks to the artist about John Berger, zoos and the animal eye.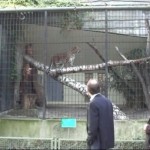 JL: The group exhibition at Castlefield will be showing a video of a leopard from a series of photographs and videos you made of animals in captivity. What was the inspiration behind the series?
RB: My mother taking me to Dudley Zoo as a child. She would take me about once a year and some of the pictures of me as a kid are taken in Dudley Zoo.
JL: You have said the work was informed by John Berger's essay Why Look At Animals? What was it that interested you in it?
RB: I came across Berger's essay browsing in the library when a student. I liked the way he talked about the 'eye of the animal'. Well, that's how I remember it. I found it very moving somehow. It also convinced me I would like to make some work with zoo animals one day.
JL: You journeyed all over the world for two years to make the series. What was the most unusual aspect of your travels?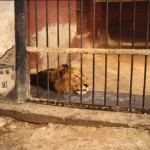 RB: Talking to some of the zoo visitors. It slowly dawned on me that there are certain people that will visit their local zoo every day as they have a particular relationship to a certain animal. By talking to these people, I found out useful information about zoo animals that helped me make the work. For instance, I was in Copenhagen zoo trying to film a tapir. It had adopted a strange head bobbing movement that it repeated by the glass of the pen (where you view it). But each time I filmed the animal the footage did not seem intense enough for me to do anything with.
That night I went to a pub, still thinking about how, when I returned the next morning, I could film it better. Later, a woman started talking to me. She seemed a bit mad. She asked me what I'd been doing that day so I said I'd been '…filming the tapir in the zoo'. That should get rid of her, I thought. But then she smiled and said that for the past five years she had been drawing the same tapir each day! She told me everything she knew about it, in particular that its eye was quite special in that just before it would blink a separate eyelid, underneath the eyelid you can see, would blink. It's hard to explain but you can see it sort of blinks twice in the video.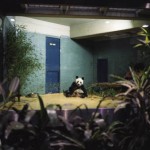 With this new knowledge, I decided the next day to concentrate filming on the animal's eye only and this time the footage looked much better, less contrived. After that I always talked to zoo visitors that were regulars as they had all sorts of interesting facts and local knowledge about their favourite animals.
JL: Many of the images appear theatrical – the design of the enclosure, the lighting and the repetitive actions of the animals give it a sense of unreality, as if the animals are detached somehow from time and space.
RB: I guess many of the images do have a theatrical element. I'm not sure what you mean about the animals being 'detached from time and space'. When I was filming and photographing I was often looking for ways to visually integrate them with their spaces. I wanted the animals to have dignity and not look marginalised or pathetic. In most of the photos and videos the animals do not hang around the margins of the enclosures but are often in the middle of them. They are also often centrally 'placed' within the photos or videos. I think they are visually quite entrenched in their enclosures.
JL: That sense of theatricality and unreality also comes across in the earlier series The Black Country, featuring landscape photographs of the place you grew up. Was that a specific intention?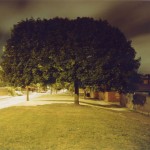 RB: You mean the night time work? That wasn't the main intention. I wanted to make some pictures of the place were I grew up but at night. (I'd already made some daytime pictures there a few years earlier.) Also, I really wanted to make some photographs using a tripod. I'd not really done this before. A lot of the photographs I'd made previously were with hand-held cameras but this time I wanted to force a different kind of attention on a subject. I wanted to develop as an artist and become more accomplished, I suppose. The desire to work this way caused them to look different from what I'd done before. I don't think I had a type of image in mind and adopted a way of working to produce it.
JL: Your recent exhibition at The Anthony Reynolds Gallery depicted your family. There was a stillness to the images that reminded me of painters like Vermeer, who depicted domestic scenes. Is this something you were seeking to do?
RB: I don't think so. I am always trying to make a good picture. When you're composing a picture sometimes it does come out with 'stillness' to it. It is not something I think about, though I do really admire Vermeer's paintings. One false note and they wouldn't work.
JL: Which artists do you draw inspiration from?
RB: Constable a lot, he was a very honest and direct painter.
JL: What will you be making next?
RB: I'd like to make a short film using actors.
JL: Finally, what colour are the walls in prison?
RB: That's funny, I'd like to make a film in a prison.
A Horse walks into a Bar is at Castlefield Gallery until 8 August. Jessica Lack is an arts writer for The Guardian, she also writes for various magazines including Dazed and Confused and ID Magazine. Her book Tate Guide to Modern Art Terms, written in collaboration with Simon Wilson, was recently published by Tate Publishing and she is currently working on a book about a composer for Fourth Estate.