Jessica Lack is impressed by an exhibition that puts the background in the foreground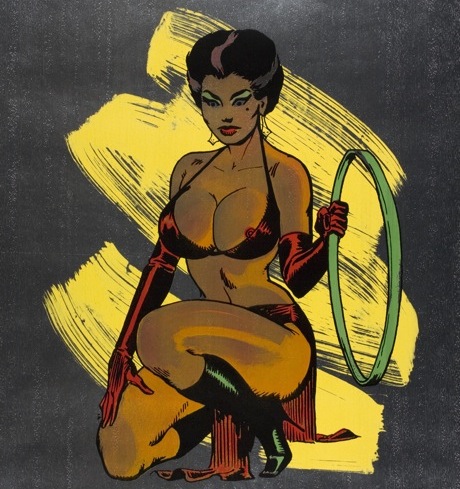 Wallpaper is seen as the spinster aunt of the arts and crafts movement. It hovers innocuously in the background and is allowed in sufferance to the dinner table provided it debases itself to the big guns of artistic enterprise. Its role is to be tasteful and unobtrusive, but like many a shrewd old maid, it is often underestimated (occasionally lethally so, if reports that the Emperor Napoleon Bonaparte was poisoned by the arsenic in his wallpaper are to be believed).
A new show at the Whitworth Art Gallery, Walls are Talking: Wallpaper, Art and Culture, aims to challenge the stereotypical view of wallpaper as a polite backdrop to artistic expression by exhibiting examples designed by some 30 modern and contemporary artists, including Sarah Lucas, Damien Hirst and Andy Warhol. Many acknowledge the groundbreaking Victorian designer William Morris, whose florid wallpapers did much to transform the English home into a place of artistic creativity  – in particular Thomas Demand, whose photographic ivy wallpaper could be a digital update of Morris' original.
What is different about the wallpapers in this exhibition is that they are less about design and more about the grand statement. From Sarah Lucas' cigarette mounds against a black background entitled Tits in Space to David Shrigley's witty industrial estate pattern, these artists are not interested in appealing to design sensibility, rather, they use wallpaper as a way of playing an intimate conceptual game with the viewer.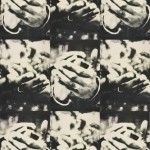 To encourage this debate, the curators have divided the exhibition into four sections: subversion, commodification, imprisonment and sexuality. As themes go, they are hardly concepts William Morris would have propounded in his desire to fill homes with things useful and beautiful. But I think perhaps two other nineteenth century writers might have approved. Both Oscar Wilde and Charlotte Perkins Gilman did battle with their décor on their sickbeds. Wilde famously uttered the immortal lines 'My wallpaper and I are fighting a duel to the death. One or other of us has to go'. The wallpaper of course won. Gilman's prolonged incarceration due to 'nervous exhaustion' resulted in the feminist tract The Yellow Wallpaper in which the heroine, imprisoned in an upstairs nursery, descends into madness, spurred on by her belief that there is someone trapped behind the peeling wallpaper in her bedroom.
What these writers recognised, while being dominated in their respective prisons by their wallpaper, was that wallpaper was a useful symbol for many social issues. Gilman used it as a metaphor for the papering over and covering up of society's ills, in particular the claustrophobia and repressive control of women. It is something the contemporary French Algerian artist Zineb Sedira highlights in her wallpaper Une Generation des Femmes, an intricately patterned paper digitally manipulated to contain tiny pictures of her female relatives, suggesting the nearly invisible presence of women in Islamic society.
Sonia Boyce's wallpaper, Clapping, resonates with Gilman's chilling description of psychosis. The work features a repeated black and white photograph of hands clapping. It is a brilliant example of conceptual game playing. Boyce uses the characteristics of wallpaper, a rigid repeating pattern that covers the walls, to create an installation depicting a faceless audience, silently applauding the viewer. Its monochromatic style evokes the claustrophobic atmosphere of cinema noir bringing to mind films like What Ever Happened to Baby Jane? in which delusional egoists vie for applause.
Like Boyce, the late Angus Fairhurst used wallpaper to create installations that provoked unease. His digital forest covered the walls of Tate Britain during his exhibition In-A-Gadda-Da-Vida. Thanks to the paper's lurid colours it enhanced the violent, neurotically charged atmosphere of the show. Fairhurst was interested in the fine line between reason and insanity, particularly with regards to the artist's persona. His psychedelic frieze was a visual nervous breakdown. It was not a landscape; it was a jittering live wire unable to escape the rigid confines of the room. If Boyce's wallpaper massaged the manic mind, then Fairhurst over heated it.
What both artists – and many others – reveal in this exhibition is the strange paradox of wallpaper. On the one hand it has limitless possibilities, being unconstrained by a frame or a plinth, but on the other, it has a fixed pattern that frustrates any attempts at freedom. It is essentially a form of madness, yet one that occurs naturally in a society set on propounding a meritocracy while remaining well and truly in the status quo. So contemporary artists have manipulated it for their own ends. Rather than being something used to cover the cracks, artists use it to uncover the reality. Wallpaper is no longer the old maid at the feast, but a wily sleuth unmasking the can-do king.
Walls are Talking: Wallpaper, Art and Culture is at Whitworth Art Gallery until 3 May. Jessica Lack is an arts writer for The Guardian, she also writes for various magazines including Dazed and Confused and ID Magazine. Her book Tate Guide to Modern Art Terms, written in collaboration with Simon Wilson, was recently published by Tate Publishing and she is currently working on a book about a composer for Fourth Estate.
Images (top to bottom): Right Hand Lady (1972), Allen Jones; Clapping (1994), Sonia Boyce; Nana (1972), Niki de St Phalle; all courtesy the artist/The Whitworth Art Gallery