Laura Mansfield explores the world of Catherine Bertola and finds an artist using unconventional materials to 'bring things to life'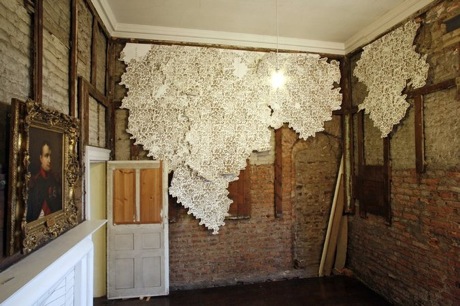 Walking through Walls are Talking at The Whitworth, past the rich array of wallpaper designs that range from the traditional to the contemporary, you come to an installation by the artist Catherine Bertola. Commissioned to create a new work for the show, Bertola developed Beyond the Looking Glass – a little room covered in floral wallpaper where overlapping designs tumble to the floor and envelop the space in a blossoming motif. Viewable only through a small window, it is a quiet, self-contained world within the exhibition's otherwise boisterous display of patterns and papers.
Throughout the galleries historical wallpaper is displayed alongside artists' remixes – contemporary designs that play with patterning, or subvert standardized designs or question our relationship to interior décor as a marker of taste, fashion and culture. And this ability – to denote a specific time and place – is something Catherine Bertola continually draws on in her practice. For a recent commission, Layer/s, lost without trace at Temple Newsam outside Leeds, for example, Bertola installed sections of a historical wallpaper design throughout empty areas of the house, recalling the building's past lives as a family home (above). The twist? Bertola re-drew the designs with household dust and ash.
'I began working with dust initially as I was interested in the forensic qualities of it as a material,' Bertola explains. 'It's often called "the matter of history", it gathers in spaces over time, and is unique to its environment. When I began using dust I was fascinated with how forensic scientists, archaeologists and pathologists can conjure and weave stories from the tiniest fragments of information and evidence left behind.'
Dust has been a fruitful line of artistic inquiry for Bertola. In her 2007 installation Everything and Nothing, commissioned for the V&A's Out of the Ordinary: Spectacular Craft, she reproduced a wallpaper design by William Morris in dust collected from the museum building. Her choice of pattern referenced the wallpaper that would have originally covered the interior of the museum for its opening in 1852. Thus the pattern became infused with traces of human activity – recalling the thousands of visitors who have entered the building over the years.
In her Whitworth installation Bertola built on this previous use of dust by incorporating another by-product of human activity: ash. Stenciled in ash collected from her own fireplace, the floral wallpaper echoes the hearth of the traditional home, its intimate conversations and rituals of storytelling. Just as Alice tumbles into Wonderland, our view through the window of the installation beckons us to enter another world.
'I started to look at and think about the use of wallpaper and the description of interiors within classic fiction, in how they are used to create the set in which the drama of the story unfolds,' Bertola says. 'I was interested in how the spaces and rooms created in books are either places of fantasy and escape for the characters or places of entrapment.'
With a reference to the past, either the previous life within a space rendered visible with the use of dust, or an allusion to literature through fireside reading traditions and the worlds of story books, Catherine Bertola creates engaging works that ignite the viewer's own imagination and activate a rich variety of associations. `I am interested in how fiction creates worlds and characters that become real in your imagination as you read the story,' Bertola says. 'Many of my installations are about reanimating space, providing a way for people to start imagining. I suppose I'm interested in bringing things to life, retelling stories.'
Tucked at the heart of Walls are Talking, Bertola's installation is just that – an intricate world, both historical and imaginary, coming alive in the animated patterns of her wallpaper design.
Walls are Talking: Wallpaper, Art and Culture is at The Whitworth Art Gallery until 30 August. Free entry. Laura Mansfield is a writer and researcher based in Manchester. She has written for a variety of publications including AN magazine, Circa Magazine and Arty. Images (top to bottom): Layer/s, lost without trace (2009), Catherine Bertola, commissioned by Temple Newsam, courtesy of the artist and Workplace Gallery; Beyond the Looking Glass (detail) ( 2010), new commissioned work for 'Walls are Talking' Whitworth Art Gallery, courtesy of the artist and Workplace Gallery.