From the city that spawned a thousand political protests, Sarah Kent previews a new political art show – and reveals Jake Chapman's thoughts on Disasters of War and 'the age of light entertainment'
Jake and Dinos Chapman, the former enfants terribles of the art world, are obsessed by Goya. So much so, in fact, that when they first began working together in the early 1990s, they considered adopting his name. And they are not the only devotees; as an aspiring young artist, Picasso traced Goya's signature over and over in the hope of absorbing some of its magic and Guernica (1937), his harrowing response to the Spanish Civil War, was partially inspired by Goya's painting The Third of May (1814), which depicts Spanish insurgents shot by French firing squads in 1808.
Goya is often described as the first modern artist because he plumbed the murky depths of the unconscious to reveal the nastier side of human nature. His etching cycle Los Caprichos (1796-7) was intended, he said, to 'criticise human error and vice'. The most famous frame, The Sleep of Reason Produces Monsters, shows the slumbering artist besieged by a sinister flurry of bats and owls; flocking out of a gloomy night sky like extras in a Hitchcock film, the birds seem to echo internal darkness as much as external threats – to embody subconscious fears and nightmares.
One can see why apocalyptic visions like these inspired surrealists such as Salvador Dali, but the black side of the Spaniard's art also appeals to the Chapmans. Their first joint effort, Disasters of War (1993) is a recreation in three dimensions of a series of etchings in which Goya recorded the atrocities committed by both sides during Napoleon's invasion of Spain. Laid out on a tabletop, the tiny tableau is utterly beguiling. The brothers have painstakingly reshaped hundreds of model figures, painted them to represent French soldiers and Spanish resistance fighters, and positioned them on grass-green mounds. Look closely, though, and it becomes apparent that each scene shows people engaged in unspeakable acts of cruelty.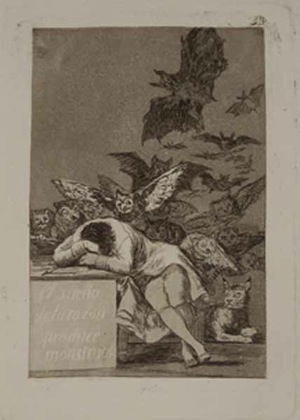 Manchester Art Gallery is showing the Chapman brother's Disasters of War alongside the etchings that prompted them. This unique encounter highlights the enormous gulf between now (our media-saturated age, awash with images of violence), and then (the 18th century, when artists had a monopoly on visual information and chose to focus on the heroism of war). But unlike his peers, Goya was on a mission – to expose the sordid reality of conflict. Given that he was 60 and profoundly deaf, it is unlikely that he witnessed much fighting, but to emphasise the truth of the events he portrayed, he captioned his prints with comments such as 'And this as well' and 'I saw it'.
At the time, his etchings must have been deeply shocking. Nowadays, when photographs and footage of revolting cruelty have become all too common, such pictures have lost much of their power to move us. 'Compassion fatigue' has turned us into voyeurs, dismayed yet fascinated by horror.
By transforming Goya's images into playroom miniatures, and thus making war crimes look like child's play, the Chapman brothers acknowledge this impotence. 'We are not offering a model of progress,' Jake told me. 'We're making work that contradicts the idea that art is inherently good and based on idealism. This is not the Enlightenment, it's the age of light entertainment.'
Then the brothers upped the ante. Using shop-window dummies, they created a life-sized version of Great Deeds Against the Dead, the most grisly of Goya's prints. Two castrated corpses hang from a dying tree beside the dismembered body of a third victim. Highlighting the wounds with blood-red realism and airbrushing the bodies to silken perfection, Jake and Dinos created a kitsch parody resembling a window display. This black comedy is not an indictment of war crimes per se, but of our prurient interest in them.
Missing the point, outraged critics accused them of obscenity. 'It's considered morally correct to show horror and tragedy on the news,' Dinos told me, 'but not in film or art. The most horrible things I've seen are not fiction.' In 2003, critics were again dismayed when the brothers defaced a set of the Disasters of War prints by painting skulls and masks over people's faces and adding Dr. Spock or Mickey Mouse ears that serve to make the barbarity seem even more arbitrary and cruel.
Two years later, the Chapmans acquired a set of Goya's Los Caprichos and replaced human faces with masks, sea creatures or bird and animal heads, transforming the scenes into surreal gatherings of madmen and monsters in which depravity rules the day.
Many believe that Goya's imagery has been vilified by the brother's deliberately idiotic additions, despite the almost reverential delicacy of their brushwork. But by exaggerating the sardonic black humour of the etchings and adding references familiar to contemporary audiences, I would argue that the Chapmans have brought home the extent to which Goya's observations are still relevant today.
Fantasies, Follies and Disasters: The Prints of Francisco de Goya is on display at Manchester Art Gallery until February 2010. Fancy meeting Jake Chapman? Find out more here.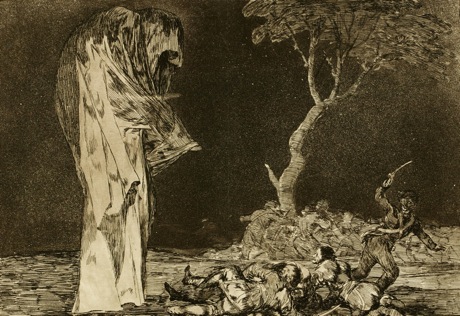 Sarah Kent is best known as the visual arts editor art of Time Out London. She has also contributed to numerous art magazines, written catalogues for galleries such as the Hayward, ICA, Saatchi Gallery, White Cube and Haunch of Venison and published books such as Shark-Infested Waters (Philip Wilson, 1994), an overview of YBA art written for the Saatchi Gallery. Kent was formerly Director of Exhibitions at the ICA the late 1970s.
Image credits, top to bottom: Disasters of War Jake & Dinos Chapman, 1993 © Tate, London 2009; The Sleep of Reason Produces Monsters and Folly of Fear, both Francisco de Goya, © Manchester City Galleries