Shadow Land, photographer Roger Ballen's first major UK exhibition, weaves a powerful spell, finds Kate Feld.
Ask Roger Ballen where the darkness in his photographs comes from, and you might not like his answer: from you. "If people see them as dark, it's because they're scared of the dark part of themselves, the part they want to avoid," he says. Ballen isn't afraid of the dark. He sees it as a state of possibility. "Darkness brings light" he points out. "The universe was born out of darkness."
This spring Manchester Art Gallery hosts Shadow Land, the first major UK retrospective of the man known for photographing people at the margins of South African society, and the spaces at the farthest, most shadowy edge of our subconscious. It is one of the most compelling photography exhibitions I've ever seen, because there's so much to think about. But at the heart of it is the fever-dream world of the pictures themselves which, if you look at them for long enough, may induce a kind of trance state. (Warning: do not operate any heavy machinery immediately after seeing this exhibition.)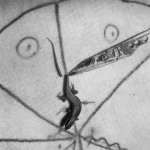 Ballen's work is overtly psychological. Looking at his pictures is immediately unsettling, like the scratch of fingernails across a blackboard. But if you push through that instant of revulsion, there's a lot to learn here. In his images, Ballen has created a surreal place where we encounter our most primal fears – death, insanity, disfigurement, displacement, chaos – staring us calmly in the face. A boy stands over a dead chicken, its spread wings mirroring the accordion in his outstretched arms. A pig hangs from a noose tied to a faceless man's foot. A lizard walks across a drawing, its sinuous body creating a bizarre angle with the blade of the knife which has just sliced off the tip of its tail. It's a kind of hell, but an oddly beautiful one.
The chronological presentation of each series allows the viewer to walk through Ballen's career and witness the evolution of his practice. You can follow the thread from his start in the 1980s documenting the isolated white communities of the Transvaal, through the late 90s Outland and the post-millennial Shadow Chamber, where human figures became more peripheral, to Asylum, where they often disappear entirely.
Ballen says an important transition occurred in 1996 or 1997, while shooting Outland: " I started having a more theatrical relationship to the subject, Sometimes I was the director, sometimes the subject was the director… prior to that it was very static; someone sat in a chair, or stood against the wall." Significantly, he says, it was also around this time that he added the word 'artist' to his customary profession of 'photographer' on passport control forms.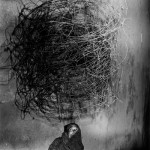 Much  of Ballen's recent work is about finding an environment where something might happen, and being there to catch it when it does. This might mean spending years shooting an old warehouse populated by drifters and outsiders, or in an abandoned building filled with feral birds and naïf scrawlings. But while his more recent images may appear to be actively curated, he resists describing them as stagings. "Ultimately, I have transformed and completed the project through photography," he says. "That's what's significant about photographs: you're preserving a moment. It's something to do with motion and the freezing of a time period. I would say that in nearly every one of these pictures there was something there that I didn't anticipate. So you can't really talk about them being staged; to me, that's like when you're doing a performance and it has to be recreated, the same every night."
It's refreshing to hear that an artist of Ballen's stature doesn't have it all figured out. "There's no law about how anything works," he says. "It's never the same. It's not possible to predict a chain of events and how (the subject) will react, they interact together as part of an organic whole. I never have any idea about it before I take a picture. I like a quiet, relaxed mood before I go to a place. I don't think about the pictures, it's a waste of time."
Ballen's work is exclusively shot in black and white film. This is important; Ballen clearly belongs to the school of photographers who will go digital when they pry the film from his cold, dead hands. "Shooting on a film camera is a different psychology," he says, "you don't know you've done until you develop it, and the chemistry of the film has its own way of manifesting itself. There's always a cost there. When you use film, you value the picture more than if you're using a digital camera, which is almost a flippant act. It's too cheap. When you have to buy the film, develop it, pay for it, look at it, you value the process more. It has to be a bit of a struggle."
Much like his work, then. Anyone coming to this exhibition looking for an hour of sunny escapism will probably leave in haste by the nearest exit. This is photography that demands something from the viewer. It is, as Ballen says, a bit of a struggle, and all the better for it.
Roger Ballen Shadow Land: Photographs 1983-2011, until 13 May, Manchester Art Gallery, free.
Images top to bottom): Eulogy, 2004; Sliced, 2007;  Wires, 2001; Boarding House, 2008. All images courtesy of the artist and Manchester Art Gallery.
You can see the world of Roger Ballen's photographs come to life in "I fink u freeky", his music video for South African rap/rave group Die Antwoord.
And if you're interested in photography take a look at our Boutique Weekender #2 programme, it's a photographic spectacular.