Guest blogger Emily Morris is bowled over by Ron Mueck's sculpture at Manchester Art Gallery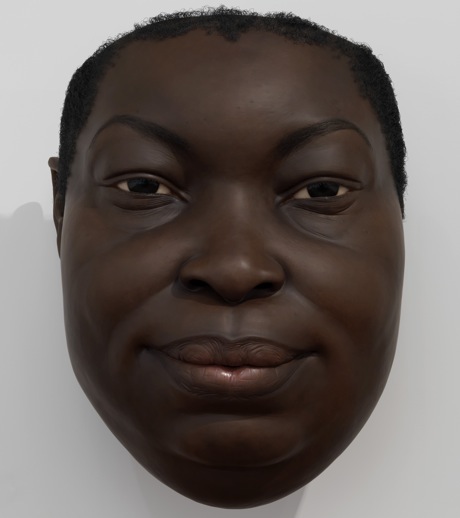 When I walked into Artist Rooms at Manchester Art Gallery, I probably looked a bit shocked. No one could fail to be struck by the sight of Wild Man, but few visitors will look as wide-eyed and shocked as he does. This extremely realistic sculpture by Ron Mueck features a ten-foot tall, naked man. Perched on a chair, he looks absolutely petrified. He's gigantic, but he's vulnerable and he's afraid. This is high impact art that is as impressive in its concept as it is in its expert execution.
Known for his incredibly detailed sculptures of people, Mueck trained in puppetry and worked with Jim Henson on Sesame Street and Labyrinth. Born in Australia but now based in London, Mueck first came to prominence when his work was included in the renowned 1997 Sensation exhibition at The Royal Academy alongside Britart big names Damien Hirst, Tracey Emin and the Chapman brothers. As part of Artist Rooms, a touring exhibition from the Art Fund, three of Mueck's sculptures are now on display at Manchester Art Gallery.
Across the room from Wild Man, the gargantuan face of Mask III protrudes from the wall. It's a calm expression; slightly weary but soothing and amiable. There's an uneasiness about the sculpture's hollow, disembodied form, though, and the name of the work suggests that this face is phoney.
The sculpture that made the biggest impression on me was the smallest one in the room. I had seen photographs of it but because everyone talks about Mueck's work being big I expected it to be huge. In fact, Spooning Couple is tiny. Resisting the urge to touch the intricately wrinkled soles of the subjects, I felt like I was gazing at the perfect feet of a newborn. Other details such as stubble, sinew and dappled flesh are far from babyish. It's a beautiful scene at first glance; two lovers locked in a moment of absolute intimacy, but closer observation reveals the distance between them. Both of them have their eyes open. He looks sad and thoughtful; she's playing with her hair and looks as though she's been crying. He's only wearing a t-shirt but she's got her knickers on. I felt guilty and voyeuristic for staring at them.
The creator of Artist Rooms, curator and collector Anthony D'Offay, wants the display to be experienced by as many people as possible – young people in particular. It's free to enter, which is a great start, but what's brilliant about this exhibition is its accessibility. Whilst there is an ambiguity to Mueck's sculpture, it is free of the complicated conceit associated with the Britart movement. Mueck has been accused of repetitiveness but I find it difficult to see how anyone could fail to be overwhelmed by his work. Almost everybody will have a response, whether it is to the existential themes the sculptures deal with or to the sheer technical genius that went into making them. I left feeling in awe of both.
Artist Rooms: Ron Mueck is at Manchester Art Gallery until 11 April. Free entry. Emily Morris won two 2009 Manchester Blog Awards for My Shitty Twenties, her blog about life as a single parent. She recently graduated with an MA in writing studies and is currently working on a young adult novel.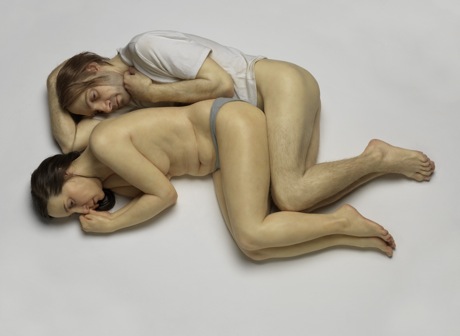 Images (top to bottom): Mask III, 2005, Ron Mueck, © Ron Mueck 2008, Tate and National Galleries of Scotland; Spooning Couple, 2005, Ron Mueck, Tate and National Galleries of Scotland.