Stuart Roy Clarke's football photography series is a labour of love: it documents 30 years of the changing face of British football. Mike Pinnington gets a closer look.
Over the past couple of decades or more, football has seen more than its fair share of change. One of the most instrumental forces driving the modernisation of the game was coming to terms with tragedy, in the aftermath of Hillsborough in 1989, when 96 fans went to an FA Cup semi-final never to return. Since then, most of us have been content to watch on from the sidelines, satisfied that, ultimately, stadia are now safer places to be. End of story. One man didn't see it that way. Armed only with his trusty Bronica camera, photographer Stuart Roy Clarke has documented – with amazing diligence – the myriad ways things have evolved.
Intuiting that football would undergo a metamorphosis after Hillsborough, Clarke made the decision to document the changes for himself. "After the Hillsborough disaster, I thought 'there's a real big watershed moment here'. It needn't be negative, let's capture the things that are going to disappear and show the new spirit of the game." He wasn't wrong, of course.
His decision  – to initiate "a project to last me at least 10 years and maybe a lifetime" – led to Clarke becoming one of the most prolific, respected and thorough chroniclers of the game. Eventually, it would lead to him travelling to more than 4,000 football games across the globe and shooting more than 100,000 images. Clearly, the results needed to be seen by a wider audience than one man and his dark-room.
Fortunately, Clarke realised that too and decided to tour his incredible archive. It was named the Homes of Football exhibition, and, following a couple of false starts, came to be co-curated by Wayne Hemingway. In July it kicked off the changing exhibitions programme at the newly-arrived National Football Museum, accompanied by a bespoke soundtrack from Mercury Award-nominated band British Sea Power, continuing the ongoing relationship between footy and music. Some things never change, eh?
Now, for the average non-football fan, elevating the traditionally working-class sport above perceptions of anything more than 'low' cultural spectacle has been something of a job. After all, while the game may have changed, many negative connotations remain. It's all well and good taking thousands of images of 22 men kicking a ball around a soggy pitch on a wet Sunday afternoon, but what makes this more than one man's odyssey?
While many will remain unconvinced, the truth is that Clarke's pictures have captured something of note. They represent the inexorable passage of time, from one set of norms to another. It's not just the game that has changed in this period; we have too. By turn simple, emotional, passionate and resonant, the best photographs in the exhibition also hint at just what it is that keeps millions of people coming back for more, no matter what barrel the game and its financial beneficiaries puts them over.
From Motty in the snow and his sheepskin coat (surely the image that made him?) and the spectacular sight of Eric Cantona in action, to the first rumblings of discontent and backlash in the form of FC United fans – there is something for everyone here. More than the sum of their parts, these images provide a valuable portal into our recent past. They tell us something about 'the beautiful game', but they tell us about ourselves, too. As the Times put it: "If Nick Hornby gave the fan a voice in the nineties; Stuart Clarke has given the fan a face."
The Homes of Football, until 31 December 2012, National Football Museum, free. Novelist Rodge Glass and Guardian sports journalist, David Conn discuss their latest footy books at the Museum on Saturday 13 October 2012, £6/£4 (as part of the Manchester Weekender and Manchester Literature Festival).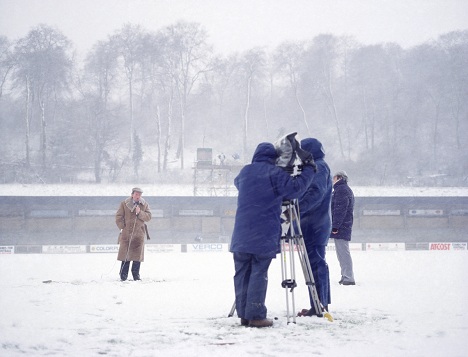 Images (from top): FC United; Wycombe Wanderers; Manchester United, all copyright and courtesy Stuart Roy Clarke, part of The Homes of Football series at the National Football Museum.