A new photography exhibition reveals the complexity of war via the use of an obsolete military surveillance technique.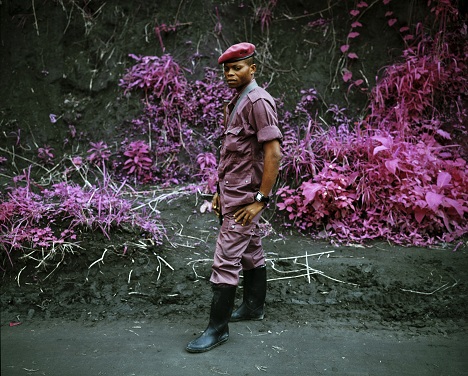 Pink – there's a colour. Little girls are supposed to love it; the FT wears it. Dickens said it summed up "squalid misery"; the original verb alluded to the punched and perforated. Pink is a colour with more depth than the sugar-coated hue itself might imply, and it is one used to astonishing effect in Infra, a series of photographs that illustrate the horrors of war in shades that range from lavender to magenta.
Infra, part of an exhibition to be shown at the Open Eye Gallery, was created by Richard Mosse, a photographer who spent months in the Democratic Republic of Congo documenting a war that has – almost incomprehensibly – resulted in over five million deaths.
Yet Mosse is anything but a hard-bitten war photographer. He uses Kodak Areochrome, a discontinued film once used during military surveillance to register infrared light. The resulting colours create surreal portraits of warlords and foot soldiers. The desperate landscape of the eastern Congo turns childlike. Trees and grass form a bright pink backdrop to the activities of the militia, whose lavender-coloured fatigues don't seem to fit with their aggressive poses.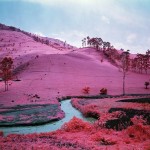 The photographs, perhaps unsurprisingly, have provoked a huge response. Many are outraged that Mosse should trivialise such a bloody conflict, yet at the same time the images went viral not long after being published online. "I get a lot of criticism but it just means that my work is working," says Mosse. "I am often dismissed as cynical but the work was not made cynically."
In fact, Mosse's motivation was aesthetic. "When you create images of any kind of human suffering you are aestheticizing it," he says. "Many war photographers try to duck the issue by flying low, artistically-speaking. They make their work deliberately ugly, with camera shake and low light. These are all strategies to make the work look as shit as possible and so escape criticism that it is somehow aesthetic. It is the received mode of war photography and it has become synonymous with the truth even though it is just as constructed as any other form of photography."
Mosse's images turn this notion of truth on its head, and for good reason. The news that filters through to Europe about the 15-year conflict in the Congo is muted; the reason being that it has no clear narrative. We don't know who the good guys are, or even the bad ones. It is a fluid, opaque war, one that makes little sense to outside eyes.
"Documentary photography is now at the moment where it has to change," says Mosse. "It is behind the times – the forms of modern conflict are profoundly complex; their narratives are impossibly difficult to convey. And documentary photography as it stands likes things simple, pictorial."
"We all crave simple narratives," he continues. "They are reassuring. But the photojournalism that claims to show us the truth just lulls us into a false sense of knowing the world, whereas the beauty of the world is that it is endlessly complex." They may at first appear sickly-sweet, but Mosse's images remind you that that world can be confusingly beautiful, even in its darkest, ugliest hour. Black and white it can never be.
Richard Mosse: Infra, Open Eye Gallery, Liverpool, 30 March-10 June 2012, free. An archive exhibition of the work of Simon Norfolk, For Most Of It I Have No Words and new work by Emily Speed will also be on display at the same time.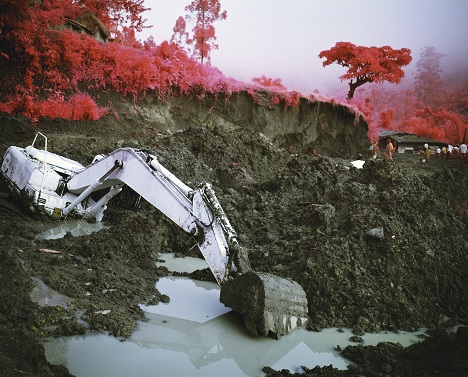 Words: Susie Stubbs. Images (top to bottom): General Février (Infra series), 2010 © Richard Mosse. Courtesy of the artist and Jack Shainman Gallery, NY; Men of Good Fortune (Infra series), 2011 © Richard Mosse. Courtesy of the artist and Jack Shainman Gallery, NY; Stalemate, 2011 © Richard Mosse. Courtesy of the artist and Jack Shainman Gallery, NY.