Liverpool Biennial 2012 is almost here, and it's more ambitious than ever, finds Hayley Flynn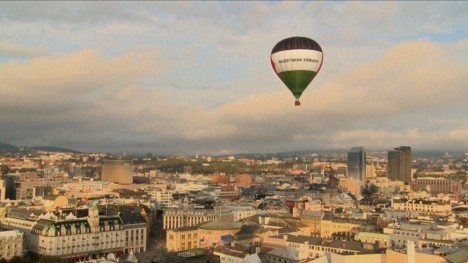 Liverpool Biennial, the largest contemporary visual arts festival in the UK, begins this weekend, its seventh outing since it launched back in 1999. For the first time, however, it has a new leader: Sally Tallant, former Head of Programmes at London's Serpentine Gallery. Tallant took up the the reins as Artistic Director and CEO in November last year – and, perhaps unsurprisingly, intends to shake things up a bit.
The Biennial is already the largest and most visited visual arts event in the UK, with 600,000 visitors in 2010, but many feel it lacks its fair share of critical attention. Guardian critic Adrian Searle's year-ahead 2012 visual arts highlights, for instance, is pretty standard: a long list of London-based events broken only by the Glasgow International Festival, in what Searle cuttingly describes as "the only British city outside London with a distinctive scene of its own". Searle isn't known for his love of all things Scouse, so Tallant aims to overcome any art-world snobbery towards her festival by re-positioning it as not solely Liverpool's: from this year, Liverpool Biennial becomes "the UK's Biennial".
"We are an international city with an international story to tell," Tallant argues. "It just happens that we're telling it from here." She intends to turn Liverpool into a "test-bed for new thinking, the place where art can happen and is produced, and a context where things can be done that could not be done anywhere else."
For Tallant, this Biennial is just the start; she hopes and wants artists, writers and "thinkers" to come to Liverpool and between them create a new model for the international art biennial. At the end of 2012, she also promises to announce "a new beginning – my vision for a decade of sustained activity in Liverpool".
For now, though, there's a ten-week festival to get to grips with, with visual art, film, debates, tours and more in public, over the water, in abandoned office blocks and, of course, in all of the city's main museums and galleries. And the aim isn't solely to broadcast the Biennial as an international contender; it's also to open up the city for rediscovery. Two new venues will open to the public for the first time during the festival, one of which is the former Royal Mail sorting office at Copperas Hill. This vast, three and a half acre-site was purpose-built in 1977 and housed 600 staff until they moved to Warrington in 2010. The venue has now been acquired by John Moores University, but for the run of the Biennial it will be home to Bloomberg New Contemporaries and an exhibition called City States.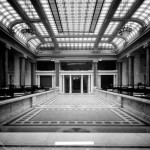 Another exclusive location to open its doors is the Cunard Building, one of the Pier Head's trio of landmarks collectively known as the Three Graces. The Cunard Building, once the passenger terminal for the Cunard Line, functions as an office and is not normally open to the public; putting this historic landmark to use as an arts venue, welcoming in such unexpected guests (both artists and art lovers) is one of the neatest ties to the Biennial 2012′s theme of hospitality. This idea, of the "unexpected guest", echoes throughout the festival, and very loosely ties together the 242 artists who appear in 27 different locations.
The quantity of art on offer is dizzying; the task of navigating so many locations, from a closed-down bakery to the city centre's oldest building (the Bluecoat), exhausting. But this is as it has always been. In Liverpool, for the Biennial, the city becomes a gallery. It becomes a place of discovery, too, as here the national Heritage Open Days celebration has been stretched into a full Heritage Open Month, with some of its finest buildings, normally off-limits, open for exploration.  If you make the opening weekend, the Hope Street Feast also brings the Georgian part of town to life (expect music from the Liverpool Phil, and a whole lot of good things to eat). All in all, then, it's a timely embrace of the theme of hospitality, as the city at large opens its doors both to the arts and to the public.
Liverpool Biennial, 15 September-25 November 2012, free, venues across the city. Read our preview of the Biennial's critical writing session here. We'll be publishing reviews and our own guide to the Biennial over the coming weeks – check back soon or join our mailing list and we'll keep you posted.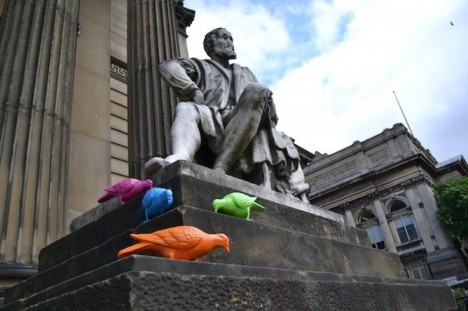 Images (from top): Palestinian Embassy by Goksøyr & Martens, courtesy Liverpool Biennial; The Cunard Building, courtesy of National Museums Liverpool; Belonging by Patrick Murphy, courtesy Liverpool Biennial.